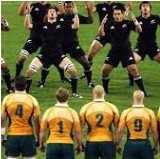 In yesterday's Top 10, Interest.co.nz's David Chaston explained that the high popularity of the National Government, which won its third consecutive general election last month in a landslide, can perhaps be explained by surging income growth in New Zealand, which rose to record levels in the June quarter:
…there is a better way to measure economic activity [than GDP], "real gross national disposable income" (RGNDI). This measures the real purchasing power of national disposable income, taking into account changes in the terms of trade, and real gains from net investment and transfer income with the rest of the world. Effectively, it is a measure of the volume of goods and services New Zealand residents have command over.

Believe it or not, RGNDI increased +7.8% in the June 2014 year, compared with an increase in GDP of +3.5% over the same period. This is the largest annual increase in RGNDI since the series began in the June 1987 quarter, according to Statistics NZ. (Remember, this is 'real' after inflation-adjusting, not 'nominal'.)

… this RGNDI is spectacular. Heck, the last equivalent Chinese number for RGNDI I could find was only +7.0% !!

Maybe history won't have any trouble explaining why the incumbent Government got re-elected handily for a third term.
The below charts, which track New Zealand per capita GDP and national disposable income (NDI), supports Chaston's contention that New Zealand income is booming: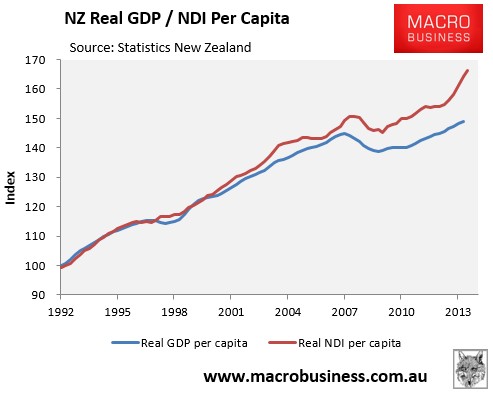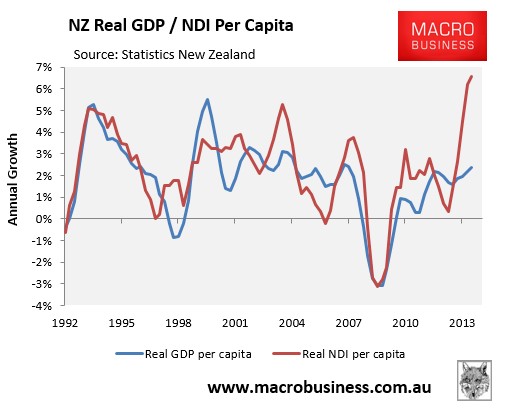 As you can see, real NDI per capita has decoupled from GDP and surged to record high levels in the June quarter, which helps to explain some of the goodwill towards the National Government.
It's also worth comparing the situation in New Zealand against Australia, where the federal government is on the nose with the electorate.
As shown by the below charts, income growth in the two countries could not be more stark, with New Zealand's real NDI per capita rising by 8.6% since December 2011 and Australia's falling by 1.9% over the same period: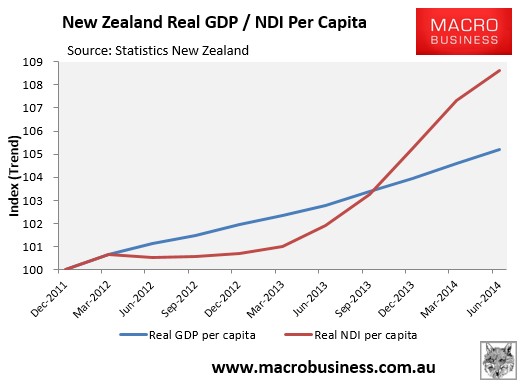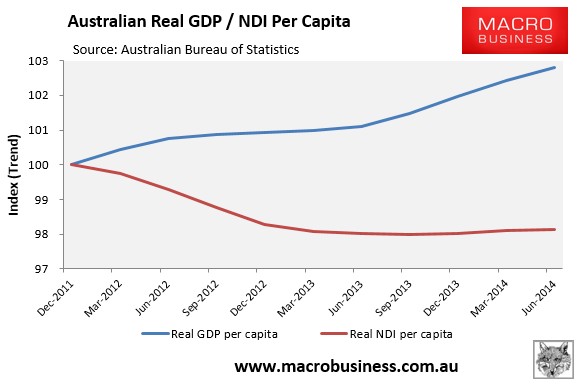 No wonder so many Kiwis are flooding home from Australia.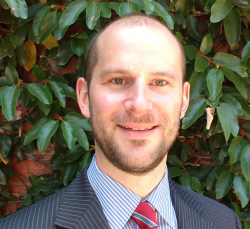 Latest posts by Unconventional Economist
(see all)