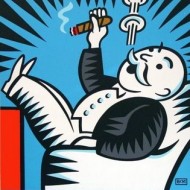 by Chris Becker
In case you missed this – on the back of my suggestion that perhaps the RBNZ and RBA should merge given the former's credibility comparative advantage over the latter, at least currency wise – The Australian reported Captain Glenn's pay-package yesterday:
The Remuneration Tribunal, that decides his salary, determined an increase of 2.4 per cent for the position of governor, effective from July 2013.

Consequently, his total remuneration was $1,010,456 in 2013-14 compared with $986,773 in 2012-13.

This includes a salary of $862,256, up from $842,285 in the previous year.
Not bad going but how does it compare internationally? Here's a great table from the chaps at ForexLive (I've added the AUD equivalents)
BOE Governor Mark Carney at £874,000 a year (AUD 1.6million)
RBNZ Gov Wheeler at NZ$600,000 (AUD 538K)
Poloz between C$431,800 and $507,900 (AUD 458K)
Draghi at €374,000 (AUD 538K)
Kuroda at approx $221,000 (AUD 251K)
Yellen at $199,700 (AUD 226K)
Not a bad gig – 2nd highest in the world behind the Poms.
Must be to compensate for the Sydney real estate market.
Latest posts by Chris Becker
(see all)