By Chris Becker
Last nights monthly industrial production stats for Germany – the powerhouse of the great European experiment – were shocking, down 4% month on month and reversing to a nearly 3% retraction on an annual basis. There is now open talk of Germany possibly going into recession, joining its southern "brothers" as the continent wide fragile recovery from the GFC turns inwards once more.
The reasons for this are quite easy to discern, but will not be admitted by those in power – the German technocrats that control the ECB and decision making in Brussels. The EU has a hybrid monetary system that cannot work over the long run, a currency union without a central monetary authority and a central fiscal control, that can neither subdue inflation nor imbibe aggregate demand.
Witness the broad scale monetary easing in the United States, which is indeed an amalgam of completely different regions, cultures and economic powerhouses and laggards, that has engineered a recovery due to its ability to stimulate across the board both fiscally at the federal level and by the Federal Reserve's QE program.
Unemployment and GDP growth has recovered in complete comparison to the EU: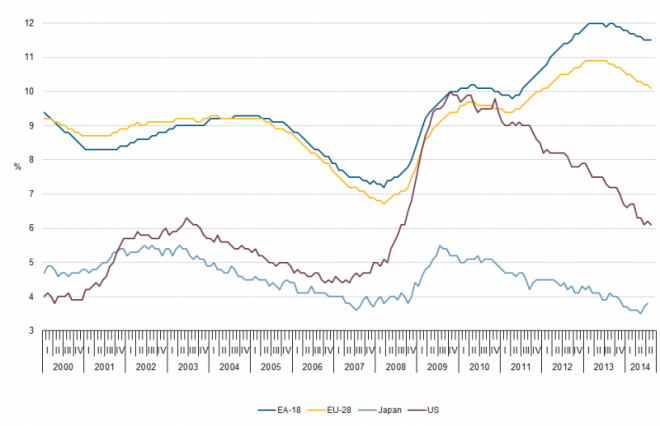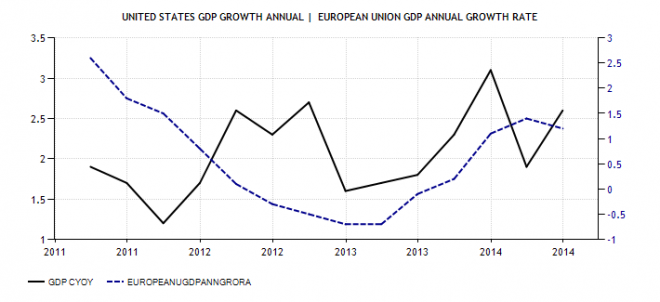 Germany is now in trouble, with last quarter GDP printing in the negative, and its export focused model (swapping the powerful Mark for a dirt cheap Euro) now under pressure with foreign orders both within the EZ and its major export partners down nearly 10%
More from Wolf Richter:
The problem with orders is that they lead export-addicted German GDP: if orders drop, so does GDP, but with a quarter lag. And orders have taken a decided turn south.

That these comparisons to January 2009 are suddenly reappearing is unnerving: the first quarter that year, the economy fell off a cliff, with GDP plummeting 4.1% from the prior quarter. No German industrialist will ever forgot those months when orders and exports simply dried up.

For the rest, it was dreary: production of consumer goods fell by 0.4% and intermediate goods by 1.9%. Construction was down 2.0%. And production of capital goods, a critical indicator of business investment, plunged 8.8%.

All hopes are now on September. It would have to pull Germany out of its deepening malaise. It would have to be powerful. It would have to crank hard to prevent the economy in the third quarter from continuing its decline. But September already doesn't look that hot. Markit's Retail PMI, which surveys 400 retailers about month-to-month changes in retail sales, plummeted to 47.1 (below 50 = contraction), to the worst level since April 2010, unnervingly close to that terrible year of 2009.

And so in the third quarter, Germany's economy might decline once again. It would be the second quarter in a row of declining GDP. It wouldn't be an official recession (which takes other data points into account as well), but it would qualify as a technical recession. And then it would take a true Q4 miracle – of which there aren't any on the horizon just yet – to pull out the year.
The question isn't if German is a miracle economy – it does get some domestic policy right on the money, especially housing – it's whether or not Europe can survive with it pushing the levers, dictating austerity for others and holding back the real structural changes.
Germany's fall into recession territory may well be the catalyst the ECB needs to get real solutions on the table.
Latest posts by Chris Becker
(see all)