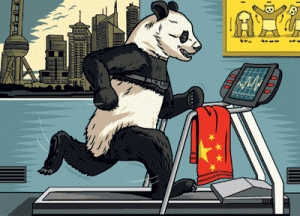 by Chris Becker
No, this headline from Bloomberg is not from The Onion:
China Steel Mills Hawk Rebar on Alibaba to Export Surplus

Tangshan Donghua Steel Enterprise Group Co. in China was so eager for new customers overseas that it turned to cold-calling manufacturers and tried hawking metal on the e-commerce website run by Alibaba Group Holdings Ltd.

A glut in the world's biggest steel-making country means that prices for basic products like rebar used in construction have collapsed, so Tangshan Donghua is targeting buyers outside China who pay more.

"We don't make any profit selling here," Wei Guotong, assistant to Tangshan Donghua's general manager, said in an interview Sept. 22 at the company's mill about 170 kilometers (106 miles) east of Beijing. "If we sell overseas, we can at least make some money, although not much."
Can you see the sort of overcapacity that is now baked into the iron ore/steel complex? A normal restocking cycle maybe off the table this year;
… steel mills can produce 210 million metric tons more than the market needs and a quarter of capacity sits idle, according to data compiled by Bloomberg Intelligence.

"Steel mills and traders have seen sales contract in September," Macquarie Securities Ltd. analysts including Graeme Train and Angela Bi in Shanghai wrote in a Sept. 23 report. "There are now expectations of production cuts. This does not bode well for near-term raw-material demand and prices."

Local governments resist attempts to close unprofitable mills to sustain employment levels and tax revenues, prolonging the glut, said Vanessa Lau, an analyst at Sanford C. Bernstein & Co. in Hong Kong. "Even after a few rather depressed years in terms of profitability, we still haven't seen large-scale steel curtailments," she said.

China's crude steel capacity will rise to 1.14 billion tons this year, compared with 750 million at the end of 2010, according to custeel.com estimates.

Lower costs for iron ore and coking coal used to make steel has helped ease the squeeze of low domestic prices, compounding the surplus.

"Don't hold your breath and expect any miracle," said Liang Ruian, vice president at Shanghai Jianfeng Asset Management Co., who is betting steel and iron-ore prices will fall until at least the first half of next year. "There's no miracle. There's only supply and demand, and you've got rising supply and slowing demand."
Bingo.
And the pressure is not just on the periphery – Sinosteel (Chinas second largest importer of iron ore) – is under enormous financial pressure with a bailout even possible due to its large, and overdue debt from its customers:
Sinosteel Corp., a Chinese state-owned mining company and steel trader, is facing financial difficulties as the economy slows and some customers are not paying on time, a company official, who asked not to be identified because of internal rules, said by phone from Beijing Sept. 23.

A steel trading unit of China's Anhui Wanjiang Logistics Group has defaulted on loans, according to an exchange filing Sept. 23. The company cited banks' unwillingness to extend loans to the steel industry as the reason for the nonpayment.

…(Sinosteel) earlier told financial magazine Caixin that it was facing financial problems as a result of unpaid bills from customers, but it denied rumours that it is struggling under the weight of overdue loans amounting to 10 billion yuan ($1.63 billion).
This all harks back to the widespread crackdown in speculative (and sometimes fraudaluent) lending at the Qingdao port scandal and of course the rapid expansion (50% plus) of the steel industry in 2011, financed by all too keen debt merchants.
Too much supply, not enough demand, freezing lines of credit. We haven't seen the last of these eye-watering headlines.
Latest posts by Chris Becker
(see all)