Pasconomics just keeps delivering for manufacturing:
The Australian Industry Group Australian Performance of Manufacturing Index (Australian PMI®) slipped back into negative territory this month, following a brief stabilisation in July. The index decreased by 3.4 points, to 47.3 points in August (seasonally adjusted), indicating a mild contraction in conditions across the manufacturing sector. The three-month moving average also moved lower in August, to 48.9 points. Readings below 50 points indicate contraction.
Many respondents to the Australian PMI® expressed ongoing concern about the persistent strength of the Australian dollar, which has increased import competition and lowered both domestic and overseas demand for locally made products. Manufacturers remain cautious about the outlook and continue to focus on reining in their costs, as they battle very weak trading conditions across most sub-sectors.
Among the eight manufacturing sub-sectors in the Australian PMI®, only the large food and beverages (53.8 points) and the smaller wood and paper products (66.3 points) sub-sectors expanded in August. All other sub-sectors contracted, with readings below 50 points.
All of the five activity sub-indexes, as well as the sales sub-index, were below 50 points (i.e. signalling contraction) in August, indicating weak conditions across the manufacturing industry. Manufacturing exports improved in August, despite the high dollar. However, this month's expansion in exports was limited to the food, beverages and tobacco sub-sector and a handful of businesses in other sub-sectors.
Pretty much everything except housing-related lumber is contracting. The internals are insipid: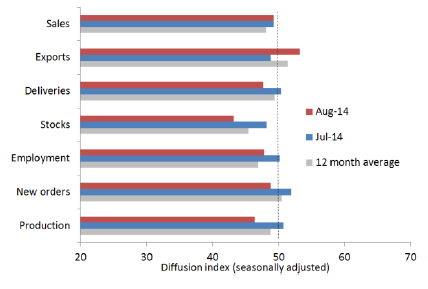 Full shitty report here.