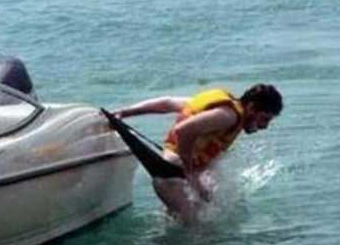 You know, there's no shortage of derision on tap when it comes to central bankers these days – and the European flavour does not disappoint this morning, following the G20 finance minister/central banking wow-pow in Cairns this weekend.
From Bloomberg:
"We will judge the combined effects of the measures, the measures of June and the measures of September, and then we'll see if this is enough," Coeure told reporters in Cairns, Australia. "In case it would not be enough, the Governing Council is ready to do more. But it's way too early to tell."
Oh really? This is an economy spiralling into deflation with record unemployment (youth unemployment at depression levels) yet its "too early to tell?"
Perhaps Cairns was the wrong venue – maybe go to Chicago next time and meet at the Laugh Factory.
Her's some more comedy:
"If the question is whether the ECB is satisfied with inflation" at that level "then the answer is no," Coeure said. "We are not satisfied. We have a price-stability mandate that is inflation coming back to 2 percent over the medium term. So anything we do is geared to achieving that."
It's obvious the ECB focus is on the wrong measure – inflation – but funnily enough, more than anything else, this shows the root problem with its economy, lack of consumer demand. Why? Rampant unemployment.
Here's a chart from The Interpreter recently showing the change in unemployment since the GFC and the limp-wristed efforts of the ECB compared to the Fed: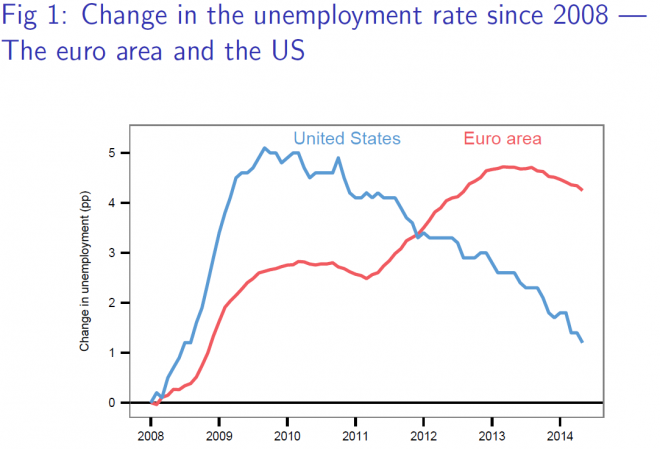 The only thing that's not too early to tell is if the plutocrats at the ECB should be out of job.
Latest posts by Chris Becker
(see all)