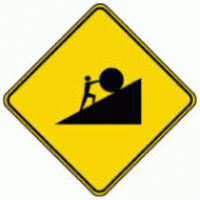 Over the past week I have presented why I believe that this decade will go down in history as a 'lost decade' for Australia, in reference to the anaemic income growth and rising unemployment that are likely to persist throughout the remainder of the this decade as the once-in-a-century commodity price and mining investment booms continue to unwind (see here and here).
Today, I want to take readers through why I believe that most economists in Australia do not recognise the significance of the structural adjustment taking place, which is likely to render their assumptions about the economy redundant.
First, lets consider incomes, which most forecasters seem to believe will recover from the sluggish rates of growth experienced in recent times.
As shown in the next two charts, the falling terms-of-trade is having a strong dampening effect on both per capita national disposable income growth and wages growth, which fallen in real terms over the year: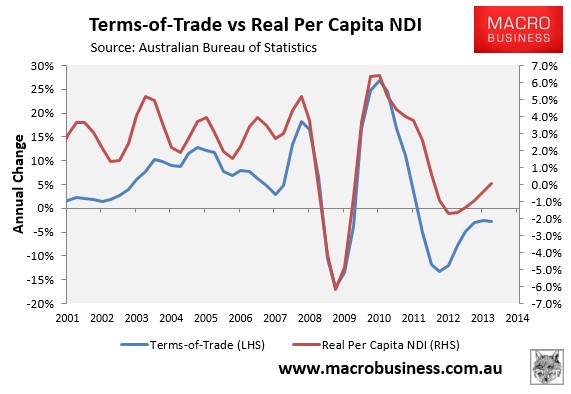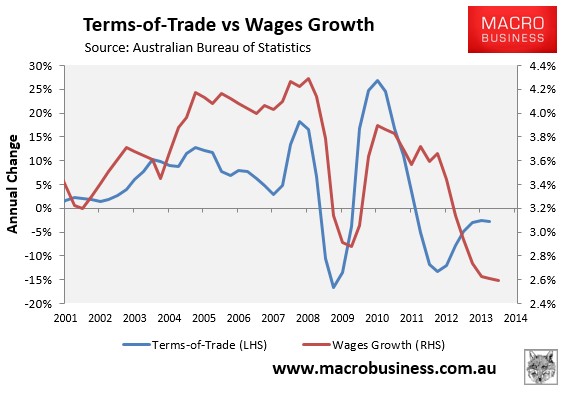 As you can see, there is a strong correlation between the terms-of-trade – the ratio of export prices to import prices – which suggests that income growth will remain very weak, and possibly negative in real terms, as long as commodity prices continue to trend down.
Next, let's consider domestic demand and consumption, which most analysts believe will recover over the remainder of this year and into 2015. Below, changes in the terms-of-trade is plotted against real per capita gross national expenditure (GNE), real per capita domestic final demand (FD), and real per capita household final consumption expenditure (HFCE):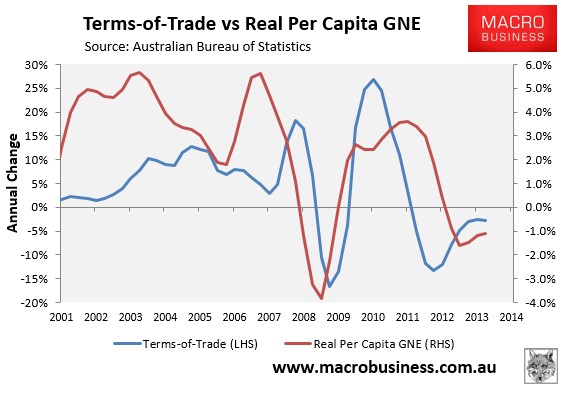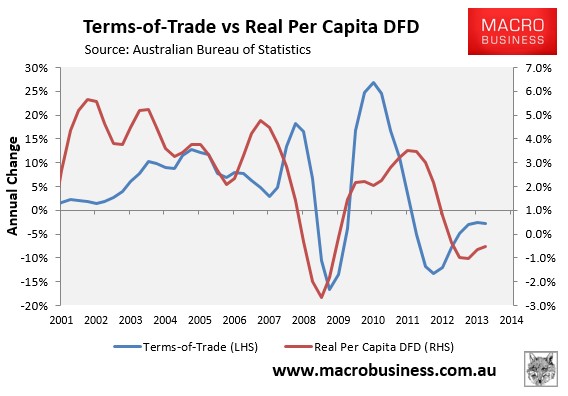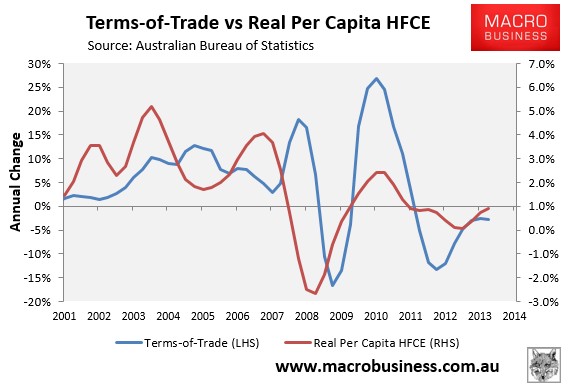 The correlations obviously aren't perfect – for example domestic demand and consumption fell during the GFC before the terms-of-trade slumped. Nevertheless, it does appear that the deteriorating terms-of-trade is pulling down these metrics currently.
Finally, the money shot. Most economists are forecasting that the next move in interest rates will be up, with the first hike likely sometime over the coming year. However, as shown below, there is a strong correlation between the terms-of-trade and the cash rate, suggesting that rates will not be hiked as long as the terms-of-trade continues to fall: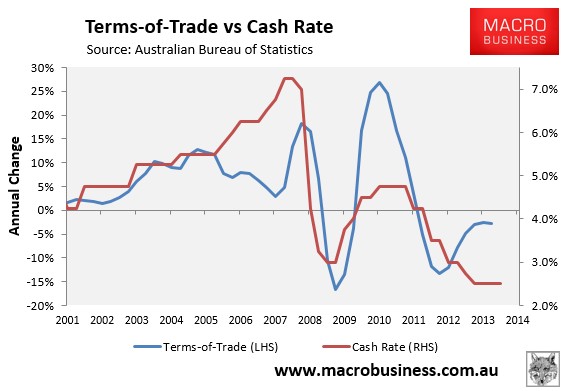 Sure, the above charts show correlations only, which does not prove causation. But with Australia's terms-of-trade still highly elevated, and the latest export and import price data from the ABS showing heavy falls, the June national accounts is shaping up as a shocker for Australia's terms-of-trade, and by extension national income (see next chart).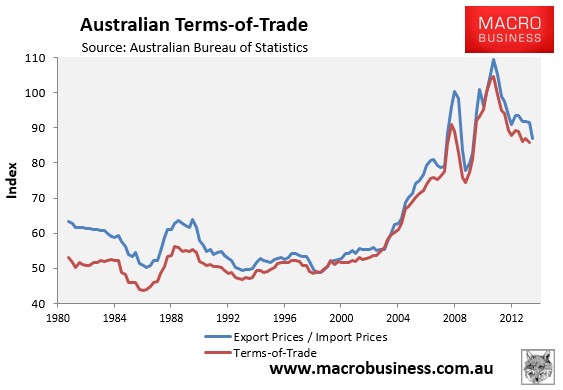 As noted yesterday, nor is the longer-term outlook looking good. Between March 2003 and December 2011, real per capita national disposable income (NDI) grew by a whopping 26%, almost double that of real per capita GDP, which increased by 14% (see next chart).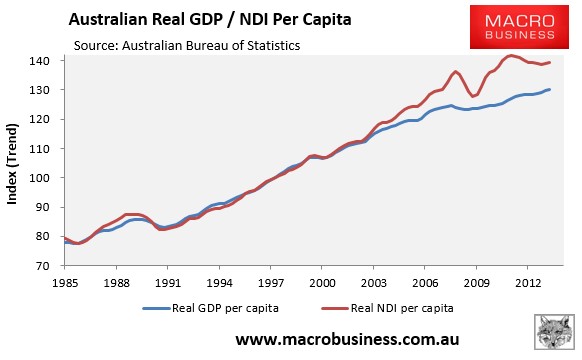 The simple truth is that these two lines need to, and will, reconnect. The process began after the terms-of-trade peaked in 2011 and has been declining ever since. But it has a long way to run, which is why income growth will remain so restrained over the remainder of this decade.
And while real income growth is anaemic (or falling), it's difficult to see how the domestic economy or consumption will stage a solid recovery, or how the RBA will raise interest rates.