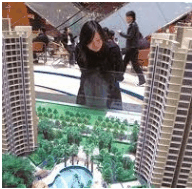 The AFR has produced a detailed report on the apartment glut hitting Australia's major capitals, whereby recent purchasers are finding it increasingly difficult to secure tenants and are having to either drop their asking rents or offer so-called New York-styled incentives, such as providing the first month free. The oversupply situation is reportedly worst in Melbourne:
Central Melbourne has over 17,000 new apartments in the pipeline and 5260 are under ­consideration for development approval…

"There's chronic oversupply," say Margaret Lomas, a founder of property consultancy Destiny…"What normally comes next after this, as those people become more and more distressed financially, they begin to need to sell as well.

"Then you've got the double whammy of not achieving a rental yield, but you can't achieve anywhere near the price they've paid to go in. You start to see them dumped. Prices topple."
The ABS' capital city dwelling approvals data shows a big surge in unit & apartment approvals across the four major capitals over recent years (see next chart).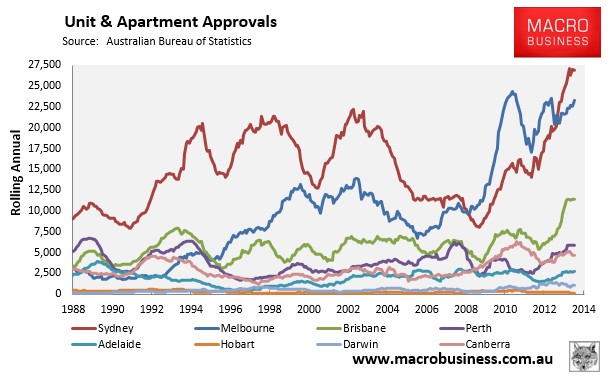 With unit & apartments now comprising more than half of all approvals in Sydney, Melbourne, Brisbane, Canberra and Darwin: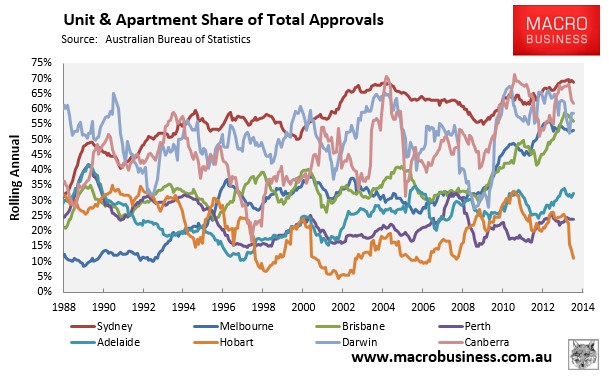 A key driver of this surge, particularly in the three biggest markets (Melbourne and Sydney in particular) is foreign investment, with developers increasingly marketing their product to overseas investors. Indeed, apartment construction is becoming a key defacto export industry for cities like Melbourne and Sydney, which is helping to keep the construction sector ticking along.
Many foreign investors do not care about local conditions, such as rental demand and supply, and instead invest in Australian real estate in order to transfer their wealth into what they perceive is a safe asset in a stable country. This poses risks to local investors that purchase apartments alongside foreigners at over-inflated prices. Many are now stuck with a crappy investment that is competing alongside a bunch of other similar crappy investments. Accordingly, these investors are unlikely to yield a decent return or achieve capital growth.
All of which is great news for inner city renters, who now face a smorgasbord of apartment choice (albeit of the generic 'dog box' variety), reasonable (and stable) rents, and the ability to negotiate favourable rental returns from increasingly desperate landlords.
Moreover, with all levels of government seemingly keen to keep foreign investment flowing in, the apparent glut of inner city apartments is unlikely to abate anytime soon, which should continue to see downward pressure placed on apartment rents and eventually prices too.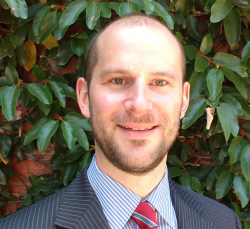 Latest posts by Unconventional Economist
(see all)