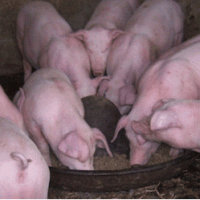 It's good to see the nation's parasite industries feasting at the trough of the Queensland Government's planned $30 billion of asset privatisations:
If it was not for Campbell Newman's Queensland government, our investment banks, law firms and accountants wouldn't know what to do with themselves.

Bankers, lawyers and accountants are in Brisbane this week, doing their best to secure a role in the state's mooted $30 billion asset sell-off.

It is fair to say there have never been so many advisers crawling through Queensland Treasury's Brisbane office, or groups of pinstripes huddling around the airport's taxi rank…

The electricity networks mandate is expected to be the most fiercely competed among the banks, given its size and the attractiveness of the assets to potential buyers in the current market.
Because the benefits for Queensland taxpayers from flogging-off the state's ports, power generators, electricity distribution networks and water pipelines are questionable, given they represent essential infrastructure.
As argued previously, it is the degree of market competition that usually determines whether an asset sale is positive for the public. And essential infrastructure like ports, water and electricity generation are by definition natural monopolies, and their transfer to private ownership confers significant pricing power to the new owners, which they generally pass on to end users.
As noted earlier this year by Monash economics professor, Stephen King:
…privatisation without competition is like a hidden tax. The government gets more today because we will all be paying more tomorrow…

Privatisation without competition risks turning a public monopoly into a private monopoly. The owners may change but the public will get ripped off just the same.
This is why ACCC head, Rod Sims, has spoken out against the Abbott Government's privatisation agenda, warning that the forecast $57 billion of federal and state-owned assets expected to be sold over the next few years could substantially lessen competition and push-up prices, particularly in the areas of electricity distribution, ports, and other essential infrastructure.
It is also why the Abbott Government's "asset recycling" incentive payments to the states, which will effectively reward states for selling-off assets are so dangerous, since they presume that private ownership is superior in all cases rather than basing payments on objective economic criteria, and on a case-by-case basis.
Indeed, the Productivity Commission's report on the provision of public infrastructure, released last month, raised similar concerns, noting that asset recycling "could act to encourage privatisation in circumstances that are not fully justified and encourage the selection of new projects that do not have demonstrable net benefits".
Asset sales can be in taxpayers best interests, but generally only when the government enterprise is subject to significant market competition, thereby reducing the new owner's ability to price gouge. This is less likely to be the case where essential infrastructure is involved, as with Queensland's $30 billion privatisation program.