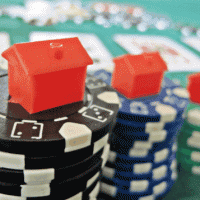 Industry Super Australia has lodged a submission to the Murray financial system inquiry claiming that the banks' bias towards housing lending is crowding-out lending to productive businesses, reflecting an unproductive use of capital. From The AFR:
The economy is being held back by banks favouring home loans over lending to productive businesses, industry super funds say…

"Consistent analysis demonstrates that we have a systematic issue ­transitioning national savings to real productive capital, such as nation-building infrastructure," chief ­executive David Whiteley said.

…it says banks are increasingly lending to finance the resale of existing housing rather than build new homes.

In the past three years, it says only 12.2 per cent of new residential lending went to new homes, compared with 22 per cent in the early 1990s and more than 30 per cent in the 1970s.
The interim report of the Murray financial system inquiry  explicitly highlighted that the combination of high tax rates on savings, as well as tax generous concessions like negative gearing and capital gains tax discounts, has made investment into housing a relatively attractive proposition. In turn, Australia's tax settings have created a level of demand for housing that is higher than it otherwise would be, resulting in too much of the nation's capital being tied-up in housing at the expense of productive of the economy – a view shared by MacroBusiness.
Specifically, the Murray interim report warned on the excessive growth in Australia's mortgage debt, which has primarily been plowed into (unproductive) pre-existing dwellings:
Since 1997, household leverage has increased markedly from debt equivalent to around 0.8 years of gross disposable income to around 1.5 years of income in 2008… Over 90 per cent of the increase in household credit has been due to borrowing for housing; investor housing credit has accounted for one-third of the increase in total housing credit over this period…

Since 1997, around 10 per cent of the flow of housing finance has been for constructing new dwellings…
It also noted how the growth in mortgage debt has been driven, to a large degree, by the favourable tax treatment of housing [my emphasis]:
Households' appetite for housing debt also reflects the favourable treatment that the tax and transfer system applies to housing. Returns on owner-occupied housing (including imputed rent and capital gains) are exempt from tax, although this is not unusual by international standards. This makes housing a very attractive vehicle for saving. In addition to the more favourable tax treatment, individuals have an extra incentive to put more of their wealth into their primary residence because of the means test for the Age Pension, which excludes the primary home. This leads to higher allocation of wealth to housing and, for some, an inefficient level of consumption of housing services.

The tax treatment of investor housing, in particular, tends to encourage leveraged and speculative investment in housing… Investors can reduce their tax liabilities by deducting borrowing costs and other related expenses against total income at the individual's full marginal tax rate.19 However, nominal capital gains, when realised, are effectively taxed at half the marginal rate…
Certainly, the aggregate data agrees with the view that the surge in lending for housing has become increasingly unproductive and likely crowded-out businesses access to finance.
As shown below, the share of total private credit flowing to housing has more than doubled since the late-1980s, whereas the share of credit flowing to businesses has roughly halved: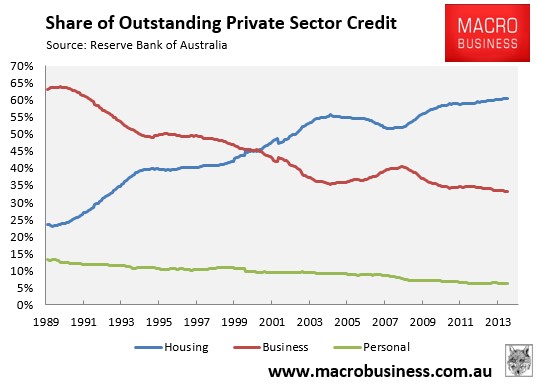 Moreover, the proportion of housing finance (excluding refinancings) flowing to new homes and construction has halved since the mid-1980s, from 30% of all finance commitments to just 15% currently (see next chart).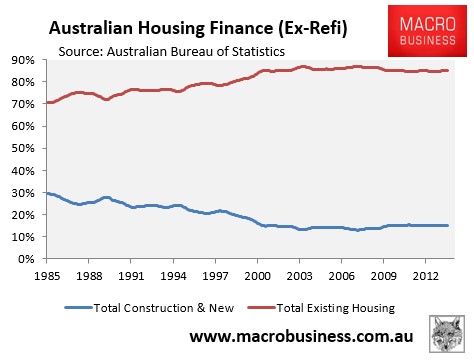 Again, the heart of the problem is Australia's unique mix of tax concessions, such as negative gearing, and the constipated supply system. The former has increased the relative attractiveness of housing investment, boosting demand, whereas the latter has materially dampened the supply response. The end result is too much of the nation's capital tied-up in housing, which has chocked-off productive areas of the economy.
The long-term solution, therefore, requires changing the tax system so that it rewards productive investment, as well as liberalising the myriad of constraints on land supply and planning so that and any extra housing demand manifests more in new construction rather than just higher land/house prices and increasing levels of mortgage debt.