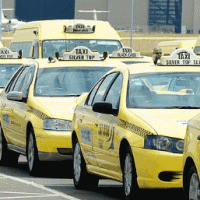 Here's a story to make you laugh. Only one taxi driver out of 234 have passed Victoria's new knowledge test designed to "weed out" bad taxi drivers. From The ABC:
The test, which was a key recommendation in last year's taxi industry inquiry, was introduced in June by the Napthine Government in a bid to lift industry standards.

It covers driver behaviour, customer service and geography.

Would-be drivers have two chances to pass the test before being forced to wait 12 months before taking it again.

Of the 234 people to sit the exam, driver trainer Karen Downie was the only person to pass.

"There's 55 questions in each unit and you get an hour to do it … a lot of knowing your bus lanes and tram rules and how to deal with people with disabilities," she said…

13Cabs' chief operating officer, Stuart Overell, has supported the test, but said it could lead to a shortage of drivers in coming months.

"If things don't change we're probably looking at a 25 per cent reduction in the taxi fleet by Christmas," he said.

"Taxi passengers will have to find alternative methods to get home as taxis will increasingly be booked out of Friday and Saturday nights."
I am not surprised by this result.
A key underlying problem is that the high cost of taxi licences has driven a wedge between the driver, who typically earns a pittance, and the customer, who ends up paying too much for the service.
As with land, the rental value component of taxi fares goes to the owners of the plates, just like rents on land. So taxi drivers are typically left paying the licence holder an exorbitant share of their fares, leaving them with little left over. Accordingly, those that tend to become taxi drivers are often newly arrived migrants or poorly skilled people, who have little choice but to accept a low paying job.
Concerns about taxi shortages can also be overcome by allowing ridesharing services, like Uber-X, to operate on Australian roads subject to meeting basic performance standards. This would provide greater choice to consumers and lower transport costs, while also improving productivity by facilitating a more efficient use of the existing transport fleet. It would also offer drivers greater options to derive an income, without paying exorbitant licence fees or rents to taxi plate owners.
At least with Uber, one gets to see the drivers' rankings and their reputation via the website, which allows customers some control over who their driver is. It is also in their best interest to impress you, as after your journey is complete, you are required to give them a rating out of 5 stars. A low star rating results in less fares for the driver.
By contrast, with a taxi it is pot-luck as to who your driver is, with the driver sometimes not even matching the photo ID on the dashboard. Taxis are also some of the worst drivers on the road and often break numerous road rules (including speaking on their mobile phones).
Ridesharing should be embraced by the public and policy makers alike for facilitating a more efficient use of the nation's transport fleet and infrastructure. Not opposed for the sake of protecting the taxi cartel, at everyone else's expense..