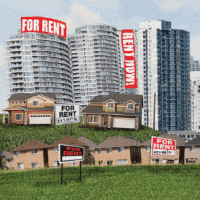 From The AFR comes another story warning that the slowing rental market could soon place pressure on house prices:
A softening residential rental market will drive yields down further and could be the canary in the coal mine of a coming correction in property prices, analysts say.

Latest figures from Fairfax-owned Australian Property Monitors show gross yields fell in Perth and Canberra as rents tumbled. Yields have also fallen in Sydney, Melbourne and Brisbane…

Housing analysts SQM Research and BIS Shrapnel expect rents and rental yields to continue to soften across most markets in 2015 and beyond with vacancies rising amid a rush of new housing flowing onto the market…

Property investment advisor Andrew Crossley said most of his client's strategies were to "buy and hold" and wait for capital growth – rather than rental income – to generate wealth.
The last sentence nicely encapsulates Australia's housing specufestors, who tend to chase capital growth rather than worry about income or holding costs.
A quick check of the aggregate data also suggests that it could take a while before deteriorating rental yields weigh on the investment market. As shown in the next chart, rental yields are still well above the 2010 trough, which suggests that prices could rise for a while yet: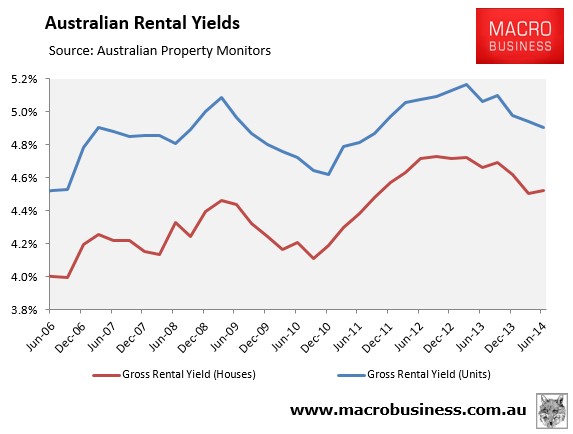 But another year of strong price growth and weak rental growth would obviously change the situation, as would an unlikely rise in mortgage rates.