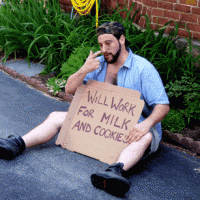 Statistics New Zealand has today released its permanent & long-term migration figures, which revealed that New Zealand net migration is booming and Kiwis continue to return home from Australia: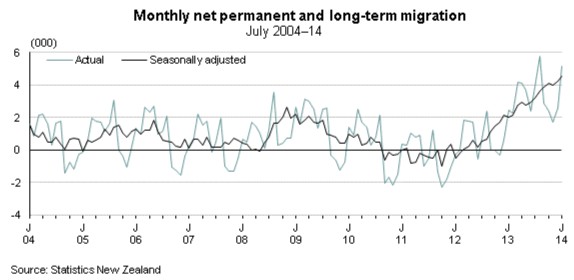 New Zealand had a seasonally adjusted net gain (more arrivals than departures) of 4,500 migrants in July 2014. This is the highest net gain since the record of 4,700 migrants in February 2003.

Net migration has increased in most months over the past year. The difference between the net gains in July 2013 and July 2014 was mainly due to:
more non-New Zealand citizens arriving (up 1,200)
fewer New Zealand citizens leaving for Australia (down 800).

In the July 2014 year, migrant arrivals numbered 102,400 (up 15 percent from 2013). Migrant departures numbered 61,400 (down 22 percent). This resulted in a net gain of 41,000 migrants, the highest annual gain since the August 2003 year (41,200). New Zealand recorded its highest-ever net gain of 42,500 migrants in the May 2003 year.

In the latest year, New Zealand had a net loss of 7,300 migrants to Australia, well down from 29,200 a year earlier.
An examination of the net migration data between New Zealand and Australia shows that the loss of Kiwis across the pond has slowed to the slowest annual pace in 19 years, which was when the Australian economy was still recovering from the after effects of the early-1990s recession (see next chart).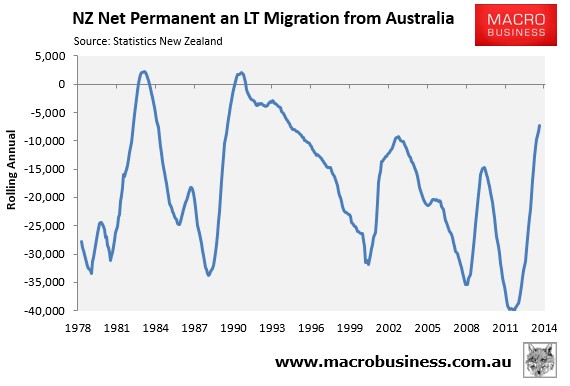 In the month of July, just 79 net Kiwis left for Australia, which was the lowest monthly figure since December 1993.
As noted last month, New Zealanders should be particularly sensitive to employment prospects in Australia, and swings in migration levels between the two nations should be indicative of the underlying strength of the Australian labour market compared with the New Zealand market (see next chart).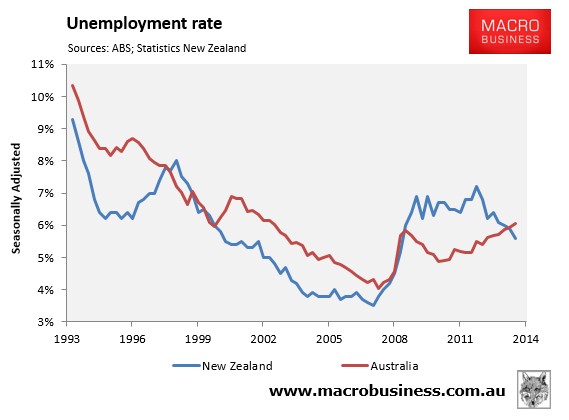 When job prospects are relatively strong in Australia, we should logically expect migration to Australia from New Zealand to increase substantially. By contrast, when Australian employment conditions weaken, we should logically expect New Zealand migration to slow.
Indeed, plotting annual Kiwi net migration against the trend Australian unemployment rate does show a strong correlation (see next chart).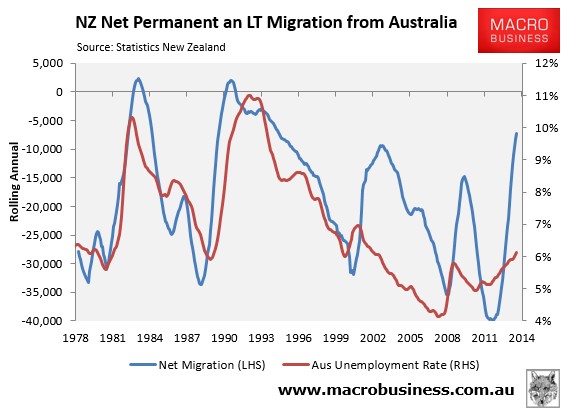 And the sharp slowing of Kiwi net migration does suggest that Australian unemployment is facing further deterioration.
Once again, maybe Kiwi battlers have a better grip than your typical Aussie economist on the Australian labour market and unemployment?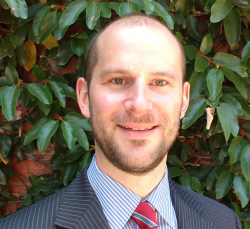 Latest posts by Unconventional Economist
(see all)