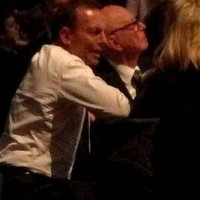 The Australian's Grace Collier has written an interesting article imploring the Abbott Government to tackle cost-of-living concerns, such as "The Australia Tax" on consumer goods, rather than pursuing policies that will drive-up costs, such as its internet policy:
THE government should not work to eliminate internet piracy without working to bring down the prices of downloads and other consumer goods.

In fact, now the carbon tax is gone, the most important tax Tony Abbott can axe is The Australia Tax.

TAT is the extra amount we all pay on consumer goods. It is a tax slapped on us by corporations, quite simply because we have a global reputation for tolerating higher prices. As consumers, we are regarded as chumps.

When it comes to digital content, Australians pay about 50 per cent more than market price…

TAT is the reason people go overseas with empty suitcases and buy goods online. Our politicians don't have to worry about TAT, but if I were prime minister demolishing TAT would be a priority…
Collier makes a valid point. It is worth reminding readers that it is just over a year since the IT Pricing Inquiry – the Parliamentary Committee tasked with finding why Aussies pay so much for digital-related content – released its 150-page report to the Government on how to reduce The Australia Tax (i.e. price gouging). The report recommended, among other things, an end to geo-blocking of content and amendments to the Copyright Act to allow parallel imports and circumvention of technological protection measures that control geographic market segmentation (summary of report here).
As noted by freelance technology journalist, Adam Turner:
Just like region-coding on discs, geoblocking exists so movie studios can get away with offering Australians less and charging us more simply because we're Australian. Rather than addressing this issue, it seems the government is happy to support a ban on circumventing "technological measures" – which might include geoblocking – as part of the secretive Trans Pacific Partnership trade agreement.
It is unfortunate that the Abbott Government has completely ignored the issues outlined by the IT Pricing Inquiry, and instead sided with rent-seeking copyright owners in implementing draconian measures that would task ISPs with playing the role of policeman, in turn pushing-up internet costs for end-users.
Indeed, Mark Gregory, Senior Lecturer in Electrical and Computer Engineering at RMIT University, contends that the Coalition's internet policy could add around $100 million a year to the cost of providing broadband in Australia, which could translate into an increase in average internet costs of around 5%. Moreover, costs to business could be significant:
Telcos will be given the onerous task of 'stopping the bytes': identifying pirates and additional compliance costs. The rest of Australian business will have to bear the cost of monitoring corporate networks to prevent illegal file-sharing, and public Wi-Fi providers could be fined if their service is used for illegal file-sharing…
In effect, the Government is seeking to remove the burden of enforcement from the digital creators and the courts to ISPs, many of whom aren't equipped to interpret copyright law, adjudicate on the facts, and impose appropriate penalties.
Moreover, the Government's Online Copyright Infringement Discussion Paper dubiously cites Australia's free trade agreement (FTA) obligations as an excuse to crack down on so-called internet piracy (see below extract).

Accordingly, it is using these FTAs as an excuse to effectively overrule a decision by the High Court in 2012, which found that internet service providers could not be found liable for authorising an act by a subscriber that infringes copyright.
In refusing to address the underlying reasons why Australian "illegally" download – i.e. lack of content availability and extortionate pricing by copyright owners – the government has completely ignored the interests of consumers, who have become the forgotten voice in the Government's "war on piracy".
And to add insult to injury, consumers are facing even higher costs on the back of the Government's data retention policy, which would require telecommunications companies to store detailed information about the calls and internet use of its customers for two years. iiNet claims that this could lead to customers paying an additional "internet tax" of $5 to $10 extra per month for their services.
If the Coalition wishes to win over voters, it should side with them, not against them on internet policy.