It may be time for developers to start panicking. Remember the buyer stampede when Hangzhou lifted home purchase restrictions? Ifeng is reporting that the effect is fading quickly as buyers wait for prices to bottom. One sales agent said it seems like ending buying restrictions had no effect.
The reporter in the story says that the gap between a rebound in sales and sales agents not seeing a change in the market is due to the market having not yet formed a bottom. A rebound is preceded by a bottom, but the market in Hangzhou hasn't stopped falling.
Perhaps the reason is because the market has put in a major top and a bottom is still a long ways off.
The latest count by the Chinese press puts developer inventory at 3 million square meters across 35 cities. Firms in Beijing are already cutting prices via their sales staff to hide the cuts from the wider public, in what are dubbed "internal sales." Chinese analysts are talking of "inevitable" price cuts waves that could see prices of new developments from big name developers cut 20% to 30%.
Ifeng is also reporting that among 71 listed developers on the Shanghai and Shenzhen markets, financing costs increased by ¥1 billion in the first half, or nearly 30% yoy. Slower home sales have slowed the return of capital and increased the developers' financing needs.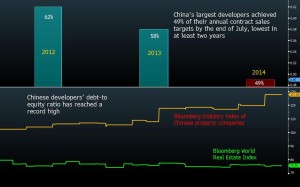 China's largest property developers risk missing their full-year sales targets as tighter credit and an economic slowdown cut demand for real estate, fueling concern the industry will struggle to repay debt.
If this breaks bad, the fallout is not going to be limited to the Chinese market.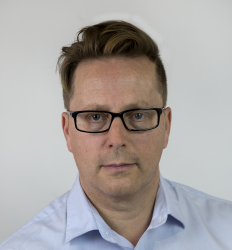 Latest posts by Houses and Holes
(see all)