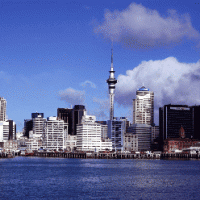 Hayden Duncan, the head of New Zealand's largest real estate company, Harcourts, has provided an interview to Interest.co.nz, in which he expressed alarm at Auckland's expensive home prices and urged the city to build up instead of out in order to cope with population growth and improve housing affordability:
The average price of homes sold in Auckland by Harcourts last month was $721,553…

"There's no doubt that's a frightening number," Duncan said.

"It's not being driven by cheap money, it's not being driven by reckless borrowing, it's not speculation," he said.

The main driver was the region's population growth, coming both from within New Zealand and overseas, which was putting pressure on an "under invested property market," he said.

He saw the solution as more intensive residential development rather than building more houses further out into the countryside.

We have to go up, we can't keep going out, he said.
How exactly would restricting Auckland's urban footprint and forcing more and more citizens to cram into the existing urban area achieve a more liveable city and more affordable housing?
Constraints on land supply were slammed by the New Zealand Productivity Commission, whose 2012 report into housing affordability cited a body of evidence showing that strict policies of urban containment and slow development approval times had adversely affected the rate of new home construction in Auckland, as well as significantly inflated land and housing costs. The Commission later followed-up with further research showing that Auckland's urban growth boundary (called the "Metropolitan Urban Limit" or MUL) has significantly increased urban land prices in general, with land prices in the lower part of the distribution worst affected.
As it currently stands, nearly all of all Auckland's regional rural land is used unproductively as lifestyle blocks, which are in effect super low density urban residential lots appropriate for subdivision. In fact, data published in 2012 by Interest.co.nz revealed that the number of lifestyle blocks had exploded across New Zealand, increasing by around 75,000 to 175,000 over 13 years, and consumed roughly 873,000 hectares (8,730 sq km) of land, compared with only around 180,000 hectares (1,800 sq km) of land used for urban uses.
We also shouldn't forget that Auckland already has one of the densest populations in the Anglosphere (see next chart), as well as severe congestion problems, in part caused by cramming its 1.5 million population into such a small area. Again, how would piling more people into the existing urban footprint improve Auckland's livability? And how would affordability be restored through densification when the sheer high cost of existing housing means that buying it, demolishing the buildings already on it, and buildings new ones, cannot be done at a price that lower income buyers can afford?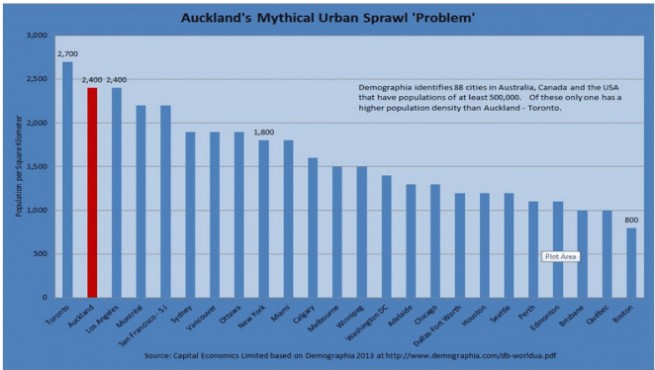 Ultimately, the debate about Auckland housing shouldn't be about whether to build up or build out. Rather, Auckland should be aiming to provide more of all types of development – fringe houses, town houses, and apartments – while reducing the system-wide cost of land/housing. This way Aucklanders will achieve genuine choice – not merely the choice between renting or buying an expensive shoebox in the sky.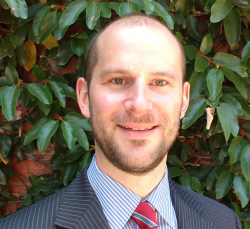 Latest posts by Unconventional Economist
(see all)