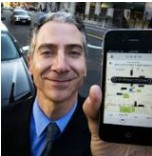 Late last month I got excited when Queensland Premier, Campbell Newman, indicated that his Government would break ranks with its New South Wales and Victorian counterparts and would not regulate Uber's ride-sharing service:
"We are a deregulation-minded government," [Campbell Newman] told ABC radio.

"We don't believe in more red tape and regulation unless it's absolutely necessary."
Unfortunately, shortly after writing this article, it appears that Mr Newman received advice from his Transport Minister, Scott Emerson, and completely changed his tune, issuing a cease-and-desist notice to Uber, effectively banning its ride sharing service.
According to Transport Minister, Scott Emerson, while the Government "welcomed innovation in transport technologies, passenger safety is always our first priority". As such:
"The department is working with Uber to outline what safety regulations it needs to operate in Queensland, such as driver authorisation, including detailed criminal history checks, vehicle standards, a taxi licence and proper insurance."
Not surprisingly, the taxi cartel has strongly backed the Government's cease-and-desist order, with Taxi Council Queensland CEO, Benjamin Wash, stating:
"Companies that do not meet regulatory requirements jeopardise the industry's reputation, put lives at risk and hurt small business people who have invested heavily in meeting the regulations".
The Queensland Government's decision to effectively ban ride sharing is a disappointing outcome.
Ride-sharing is an economic no-brainer, providing greater choice to consumers and lowering costs, while also improving productivity by facilitating a more efficient use of the existing transport fleet. Yet, as I keep arguing, economic no-brainers tend to be resisted by incumbent interests who are threatened by it.
Everywhere in the world where ridesharing has been tried, a storm of opposition has been aroused by vested interests; not just in the Taxi industry, but in public transport monopolies and government.
As argued by Colin Clark (a distinguished colleague of J M Keynes), in possibly his last published work, "Regional and Urban Location" (1982):
Anyone who defends the taxi monopoly, and restrictions on multiple hiring, while at the same time complaining about the use of fuel, is totally incoherent. The abolition of the taxi monopoly would cheapen travel, save fuel, reduce congestion, and would have one further great advantage, to which hardly any attention has been drawn, namely that it would provide employment opportunities for the unskilled…..
Yet defending the taxi cartel remains the status quo not just in Australia, but throughout the world. As illustrated in the Washington Post over the weekend, taxi licences ("medallions") have been one of the best performing investments going around, thanks to the artificial scarcity of supply derived through government regulation: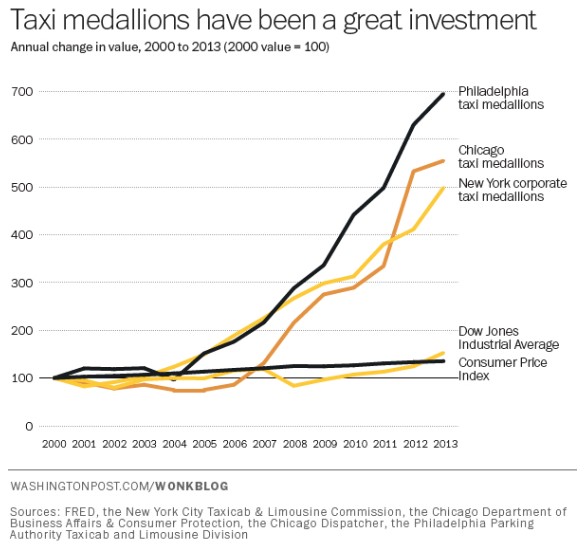 The Queensland Transport Department's opposition to Uber on safety grounds is also spurious. Uber's drivers must be over 24 years of age and have no criminal record. Vehicles must also be covered by comprehensive insurance, have at least four doors and be manufactured after 2005.
Moreover, Uber has other built-in checks and balances that are not available to users of taxis. For example, Uber customers get to see the drivers' rankings and their reputation via the website, which allows customers some control over who their driver is. It is also in the driver's best interest to impress you, as after your journey is complete, you are required to give them a rating out of 5 stars. A low star rating results in less fares for the driver.
By contrast, with a taxi it is pot-luck as to who your driver is, and there is no mechanism to rank their performance.
Adults in Australia should be free to choose their transport options. If they do not trust Uber and want to take a taxi. Fine, take a taxi. Similar, if they want to use Uber, let them exercise their choice and do so. But their choices should not be limited by archaic and monopolist regulations that seem more interested in maintaining inflated taxi plate values, rather than offering consumers real value.