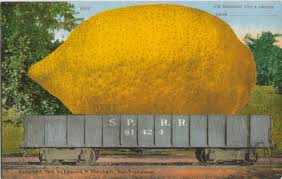 Australian banking is in a mad scramble to squeeze the last drop of juice from the massive mortgage lemon:
Macquarie Group's domestic mortgage book will almost double to $30 billion in two years, transforming the investment bank into one of most significant players in the market, and allowing it to nip at the heels of the four major banks.

…In a research note, JPMorgan analysts characterise Macquarie's aggressive incursion into domestic mortgages as "more meaningful than investors or even Macquarie management themselves may suggest".

The investment bank notes growth has been exceptional over the past two years with the portfolio expanding by around 50 per cent to $17 billion.

Further growth will be fuelled by the redeployment of some $10 billion of surplus cash management account (CMA) deposits.
Even our only home grown investment bank, which is supposed to function in the system as the broker of high risk, high return business investment, is instead turning to mortgages as the only game in town.
That, seemingly, is all there is.
David Llewellyn-Smith is Chief Strategist at the MB Fund and MB Super. David is the founding publisher and editor of MacroBusiness and was the founding publisher and global economy editor of The Diplomat, the Asia Pacific's leading geo-politics and economics portal.

He is also a former gold trader and economic commentator at The Sydney Morning Herald, The Age, the ABC and Business Spectator. He is the co-author of The Great Crash of 2008 with Ross Garnaut and was the editor of the second Garnaut Climate Change Review.
Latest posts by David Llewellyn-Smith (see all)