From COMMSEC today:
Term deposits held with banks fell by $2 billion in April to $536.3 billion, the lowest result in 22 months. Term deposits are down 1.2 per cent on a year ago – the biggest annual decline in 11 years.
It's tempting to condemn the RBA but if I cross-reference this with APRA deposit data also out today I get a very different picture. Both month on month and year on year bank deposit growth is still tracking sideways at decent levels: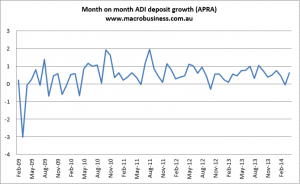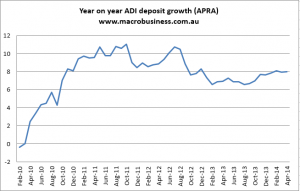 We're clearly seeing some form of deposit cycling, here. Is it mortgage offsets accounts? More at-call money? I'm open to explanations…
David Llewellyn-Smith is Chief Strategist at the MB Fund and MB Super. David is the founding publisher and editor of MacroBusiness and was the founding publisher and global economy editor of The Diplomat, the Asia Pacific's leading geo-politics and economics portal.

He is also a former gold trader and economic commentator at The Sydney Morning Herald, The Age, the ABC and Business Spectator. He is the co-author of The Great Crash of 2008 with Ross Garnaut and was the editor of the second Garnaut Climate Change Review.
Latest posts by David Llewellyn-Smith (see all)