No rebound in sight yet:
Consumer confidence fell a further 1.1% to 99.3 in the week ending 25 May. Confidence is now down 15% over the past five weeks when various Budget policies first made news headlines. While the decline was relatively more modest compared to previous weeks, confidence has now dipped below 100 – the 'neutral line' – for the first time since May 2009.

Respondents' perceptions of 'economic conditions next year' fell a sharp 6.2%, while moves across all other subindices were relatively modest. For example, perceptions of 'financial situation compared to a year ago' which is most correlated with households' spending growth rose 1% last week. After having fallen relatively sharply over the past two months, however, this series continues to suggest consumer spending could soften in the near term.
At this stage, ANZ's bottom line for the household consumption outlook remains that consumer spending will improve this year, although the confidence impacts from the Budget may weigh on the speed of that recovery.
Here's how the Roy Morgan/ANZ measure of consumer confidence is tracking against Westpac's monthly gauge, which also fell heavily last week: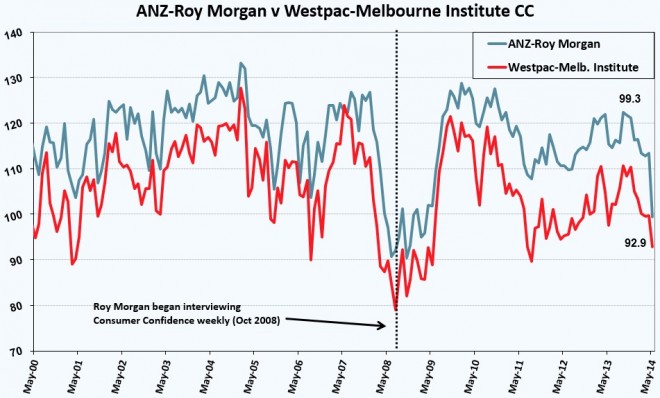 Houston, we have a problem.