Via FTAlphaville comes Nomura, ASY and UBS on the unfolding Chinese property bust. Here are the Nomura charts that speak for themselves: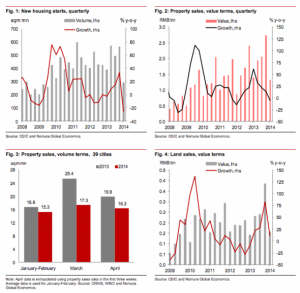 And the underlying starvation of capital for developers: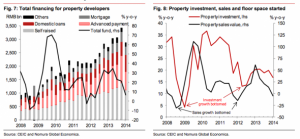 ASY reckons:
We recently visited new housing complexes in cities around Hangzhou, where prices have been reported down 30%. In Xuzhou, Changzhou, and Ningbo, as well as Hangzhou, we generally found asking prices down by 20-30% and transactions very slow. Some developers that had sufficient cash resources were simply holding their property off the market and not transacting. We have found the same trends in the Northeast, and China Securities Net reported this week that, in April, prices for housing in Changsha, Hunan fell 30%, while transaction volumes were down 60%.
And UBS warns:
Our base case forecast notwithstanding, we think the risk of a sharper and more persistent property downturn has increased. Construction has increased more rapidly relative to underlying demand in the urban area, shifting market balance compared to a few years ago. In the meantime, as financial sector reform and capital account opening continue, and as property prices stay stagnant, the case for property as an investment vehicle will become increasingly weak. The shift in asset preference and market sentiment may not be as easily offset by government measures as before, considering the changes already happening to the balance between supply and underlying demand.

Moreover, following the post-global-financial-crisis property and infrastructure boom and given the already high overall leverage, we think the room and effectiveness of policy support may be limited compared with 2009-10. We see a 15% probability that a sharp property downturn could lead to GDP growth dropping to a 5% handle in 2015.

For example, on infrastructure, while railways and public transport still have a lot of room to grow, the much larger sector of highways and roads does not. On social housing, while the speed of construction can be accelerated, programs in the past few years have already resulted in a big increase in the share of social housing in overall construction, accounting for 15% of ongoing construction and a quarter of urban residential completion (figures 17-18). It is not clear how much faster it can grow from this high base.

In addition, local government finance would likely be significantly hurt by a property downturn, limiting its ability to carry out ongoing infrastructure projects, let alone its ability to increase infrastructure and social spending. Land sales have accounted for about a quarter of overall local government spending in recent years (budgetary spending + government fund spending). Also, a significant portion of local government borrowing may have been collateralized by land and property as well – local government debt has increased by almost Rmb10 trillion since 2010.

Therefore, there is a sizable and growing risk that the government's measures may not be sufficient to stabilize property activities and overall investment, as investment demand for housing changes significantly and developers cut their construction more aggressively, which could aggravate difficulties at the local government level. In such case, demand for heavy industry products would drop notably, leading to a decline in investment and consumption growth. We think there is a 15% probability that the property downturn will be much more severe than we envisage now, leading to GDP growth slowing to about 5% in 2015.
That pretty much sums up my view, though I see the risk of it getting nasty at more like 50% and the downside more like 4% growth, a rebound and then permanent Western levels of growth. Slowing is the objective of reform not its enemy.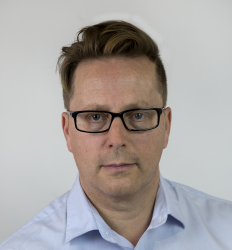 Latest posts by Houses and Holes
(see all)