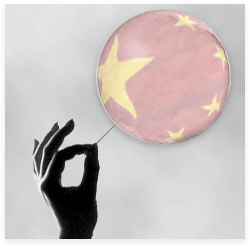 From Sinocism today comes this worrying story about a private speech given by Vanke Group Vice Chairman and the CEO of Vanke Beijing Mr Mao about the Chinese property market last night. Vanke is China's largest residential developer.
Mao touched upon supply/demand (esp BJ market), impact of anti corruption on secondary market, DSI/inventory, house construction per thousand pop and very importantly, the impact of change in Chinese demographic on the economy in the near/medium term.

3 common phenomena in the Chinese real estate sector in 2014:

(1) T2-3 cities: supply exceeds demand, by a lot

(2) T1 cities: continue to see robust demand; however, land price has gone up more than project ASP.

(3) Credit has tightened.

Anti-corruption campaign in China has a greater impact on high-end property projects than most realized. There have been on-going investigations on owners of property priced around 40K-50k RMB/sqm, not to mention the more expensive ones. Those high-end properties are under scrutiny for anti-corruption purpose, which caused concern for the demand in high-end property market.

Send-hand housing market has been more impacted by the anti-corruption campaign. New listings for sale surged to 10-12 units per day, 2x as before.

Many owners try to get rid of the house as soon as possible, even at the cost of deep discount, because many corrupted officers have illegally accumulated several or more houses through bribery or embezzlement. As a result, the ordinary people who want to sell homes in the secondary market face deep price cut.

On the other hand, supply of affordable homes (hard demand/buy to move in) is very constrained.  For instance, in BJ, there are ~5000 units of such homes (for hard demand) and the number of applications exceeded 250K pre sale day.

90% demand in BJ's transactions now is consumption driven.  Per request by government, Vanke has launched some property projects in BJ at lower prices ~22K rmb/sqm regardless of the potential financial losses. All units were sold out in 4 hours since the prices were set lower than market price to accommodate consumption driven home buyers.

If prices were set at 28K-29K rmb/sqm, buyers would immediately drop, and if priced at 30K rmb/sqm, buyers will drop more.

The bottom line is, demand for low end priced homes is robust whereas high-end homes see sluggish demand in T1 cities.

In 27 key cities, ASP dropped 13%, 21%, 30% yoy in March y-y respectively.

We expect the trend to continue in April. Credit tightening from the banks and customer's sentiment towards the economy are the drivers.
Much more here. Read it!