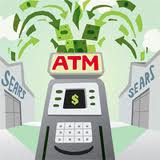 From Citi:
Share price strength sees the recommendations for WBC & NAB reduced —
We are downgrading our recommendations for WBC to a Neutral and NAB to a Sell with no change in our TPs. Over the past 3 months, the sector has continued to outperform the broader market, with WBC being the standout performer. NAB has performed more in line with the market; however, we are reducing to a Sell due to poor expected H1 revenue and underlying profit growth and continuing lackluster demand for business lending.

Target CET 1 ratios back in focus — It appears the implementation of recent DSIBs legislation will likely result in target CET 1 around 9.00%-9.25%, rather than 8.50%-8.75% as previously estimated. The conglomerates treatment of nonrecourse debt finance in the WM subsidiaries is also expected to be less favourable, although we are expecting grandfathering of existing arrangements
ANZ (01/05) Citi Cash NPAT $3,568m, Basic EPS 129.7¢, DPS 79¢ — The impact of the final dividend and 7% RWA growth in the Dec saw the CET1 fall to 7.9%. Will this capital position impact ANZ's asset gathering strategy as they aim to navigate new legislation?
WBC (05/05) Citi Cash NPAT $3,728m, Basic EPS 119.5¢, DPS 90¢ – no special dividend — WBC is the best positioned for revised capital target ranges as well as no impact from non-recourse debt in WM subsidiaries. However, capital target range uncertainty is likely to have special dividends on hold for now
NAB (08/05) Citi Cash NPAT $3,103m, Basic EPS 127.6¢, DPS 96¢ — We are expecting weak revenue and possibly negative jaws to offset continued impairment expense improvement. How will the new management team improve performance relative to peers against the backdrop of weak business lending demand?
David Llewellyn-Smith is Chief Strategist at the MB Fund and MB Super. David is the founding publisher and editor of MacroBusiness and was the founding publisher and global economy editor of The Diplomat, the Asia Pacific's leading geo-politics and economics portal.

He is also a former gold trader and economic commentator at The Sydney Morning Herald, The Age, the ABC and Business Spectator. He is the co-author of The Great Crash of 2008 with Ross Garnaut and was the editor of the second Garnaut Climate Change Review.
Latest posts by David Llewellyn-Smith (see all)