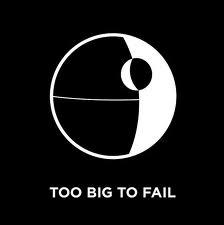 From the AFR:
The International Monetary Fund has renewed its push for ­Australia's four largest banks to fund loans with more shareholder equity and less debt….The Washington-based institution has also controversially suggested governments consider levying a new tax on bank liabilities to discourage excessive risk-taking and to pre-fund future financial bailouts.

…The IMF says banks deemed by governments to be "too important to fail" can borrow at lower rates and take bigger risks because of an implicit government insurance subsidy.

A higher minimum capital requirement for SIBs [systemically important banks], in addition to heightened supervision and a credible resolution framework, mitigates systemic risk by providing higher loss absorbency that reduces the likelihood of an SIB becoming insolvent."
Compare this with David Murray who was quoted yesterday emphasising the role of bank performance in its winning dominant market shares and the need to seek capital relief from Basel rules deemed excessive. This is despite the DSIB charge here being largely gamed already thanks to APRA.
Full IMF report here.
Latest posts by David Llewellyn-Smith (see all)