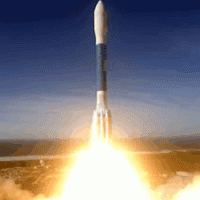 Following yesterday's post on RP Data's March house price results at the 5-city level, calculated from its daily index, RP Data has today issued its Media Release, which includes results for the other capitals, namely: Hobart, Canberra and Darwin (see below table).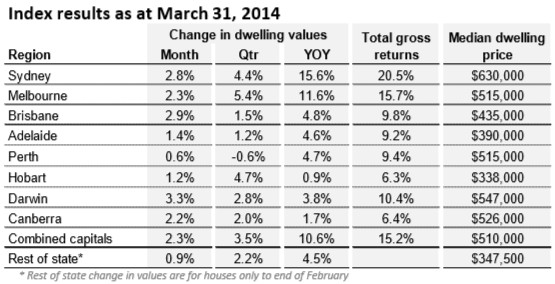 As you can see, values rose by 2.3% at the 8-city level, with values increasing across all states and territories.
It was the strongest monthly gain in housing values in the series' 18-year history, eclipsing the previous record of 2.2% growth in August 2001.
According to the Media Release:
…half of all Australia's capital cities are now posting record high dwelling values, with Sydney's housing market showing the most substantial increase beyond its previous market high…

"Dwelling values increased by just 2.9 per cent over the first twelve months of the cycle, however, since last June, values are up by close to 13 per cent. Over the long term, I don't believe such a strong pace of growth can be sustained – we expect housing market conditions to cool down as the year progresses.  If the pace of capital gains doesn't slow, we may see higher interest rates realised much earlier than previously expected," Mr Lawless said.
Rental yields are also beginning to worsen, with Melbourne's looking especially particularly poor:
According to Mr Lawless, gross rental yields have been falling since June 2013 when the pace of dwelling value growth picked up substantially.  While capital city home values are up 12.5 per cent since May last year, weekly rents have increased by just 1.8 per cent.

"The bi-product of this disconnection in growth rates is that yields have been eroded consistently lower.  The situation is worse in Sydney and Melbourne.  Since May last year Sydney home values are up 17.3 per cent while rents have moved by only 3.5 per cent.  Similarly in Melbourne, since May last year dwelling values have risen by 14.6 per cent while rents have crept only 1.5 per cent higher.  Melbourne and Sydney are showing the lowest gross yields of any capital city at just 3.3 per cent and 3.8 per cent gross respectively," he said.
Full release here.
Leith van Onselen is Chief Economist at the MB Fund and MB Super. Leith has previously worked at the Australian Treasury, Victorian Treasury and Goldman Sachs.
Latest posts by Leith van Onselen (see all)