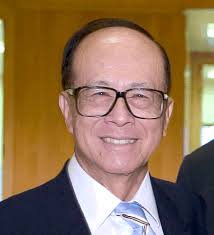 From Sovereign Man:
Here's a guy you want to bet on– Li Ka-Shing.

Li is reportedly the richest person in Asia with a net worth well in excess of $30 billion, much of which he made being a shrewd property investor.

Li Ka-Shing was investing in mainland China back in the early 90s, way back before it became the trendy thing to do. Now, Li wants out of China. All of it.

Since August of last year, he's dumped billions of dollars worth of his Chinese holdings. The latest is the $928 million sale of the Pacific Place shopping center in Beijing– this deal was inked just days ago.

Once the deal concludes, Li will no longer have any major property investments in mainland China.

This isn't a person who became wealthy by being flippant and scared. So what does he see that nobody else seems to be paying much attention to?

Simple. China's credit crunch.

After years of unprecedented monetary expansion that has put the economy in a precarious state, the Chinese government has been desperately trying to reign in credit growth.

The shadow banking system alone is now worth 84% of GDP according to an estimate by JP Morgan. The IMF pegs total private credit at 230% of GDP, jumping by 100% in the last few years.

Historically, growth rates of these proportions have nearly always been followed by severe financial crises. And Chinese leaders are doing their best to engineer a 'soft landing'.

If they're successful, the world will only see major drops in global growth, stocks, property, and commodity prices.

If they fail, the spillover could become pandemic.

This isn't important just for Asian property tycoons like Li Ka-Shing. Even if you don't know Guangzhou from Hangzhou from Quanzhou, there are implications for the entire world.

Here in Chile is a great example.

Chile is among the top copper producers worldwide, China among its top consumers. With a major slowdown in China, however, copper prices have dropped considerably.

Consequently, the Chilean economy has slowed. The peso is down nearly 10% against the US dollar in recent months, and the central bank is slashing rates trying to prop up growth.

There are similar situations playing out across the globe.
Like here. Read on…