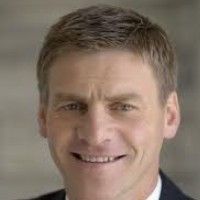 After last week taking the fight to Auckland's entrenched anti-sprawl "NIMBYs" (Not In My Backyard) and "BANANAs" (Build Absolutely Nothing Anywhere Near Anyone) groups in a speech at an Auckland Chamber of Commerce and Massey University luncheon, New Zealand's Deputy Prime Minister and Finance Minister, Bill English, has today attacked town planners for restricting the growth of housing supply, arguing they would be blamed if the latest surge in demand from migration created another house price boom that inflated the exchange rate and interest rates. From Interest.co.nz:
"Unfortunately, our planning rules and attitudes within councils and to some extent government have restricted the supply of new houses that can be built in response to this new demand"…

"Rapid increases in house prices are damaging for the economy because it puts pressure through a high exchange rate on our export sector"…

"That's a challenge for government – because it puts pressure on government to fund the affordability gap for households that can't afford rising mortgages – and it's unfair on individuals who are trying to enter the housing market"…

…if we're going to avoid significant ongoing increases in house prices and therefore even higher interest rates, we need councils to make more positive decisions for more housing supply".
As noted last time, Mr English has been a driving force behind the National Government's attempts to free-up New Zealand's constipated planning system, also penning the introduction to the 2013 Demographia Housing Affordability Survey, in which English outlined in detail the barriers to affordable housing in New Zealand.
Australia could seriously do will someone of Mr English's caliber in Australia, where instead of constructive engagement, all we have gotten from Treasurer Joe Hockey and Prime Minister Abbott are ringing endorsements of Australia's housing quango, which pumps demand and chokes supply.