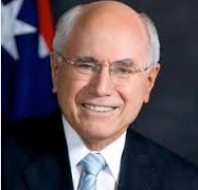 The Australian newspaper today reports that a new poll has ranked John Howard as the best Australian Prime Minister of the past 40 years:
The poll, conducted last week by Essential Research and provided exclusively to The Australian, shows that 39 per cent of voters ranked Mr Howard, the Liberal prime minister from 1996 to 2007, as the best.

Labor's Mr Hawke was rated as the best prime minister by 14 per cent of voters. A further 8 per cent of voters chose Mr Whitlam while another 8 per cent selected Mr Rudd.
I am not surprised by this result, given the Howard Government's reign was an era of unparallelled prosperity and calm for the Australian economy.
That said, it is my firm belief that John Howard's success was more due to good luck, given that he governed during a period of benign macroeconomic conditions, both locally and abroad. Consider the following facts.
First, Howard presided over the most lucrative part of the resources boom when commodity prices and the terms-of-trade literally exploded, providing the key impetus for the rising disposable incomes (see next chart).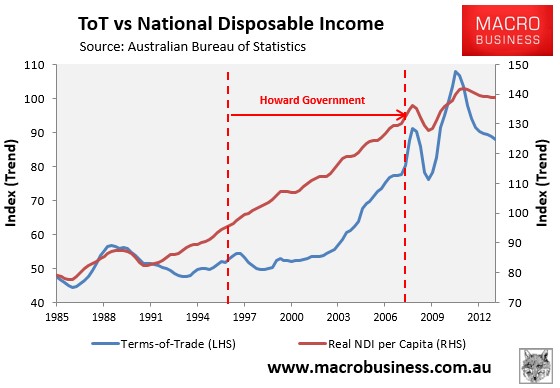 Second, nominal GDP is the dollar value of what's produced and earned across the economy and is also the measure that drives taxation revenue. Due in part to the inexorable rise in the terms-of-trade, the Howard Government experienced ever growing nominal GDP growth as commodity prices surged, whereby it reaped the benefits of growing personal and company taxes, not to mention increased capital gains taxes as asset markets boomed.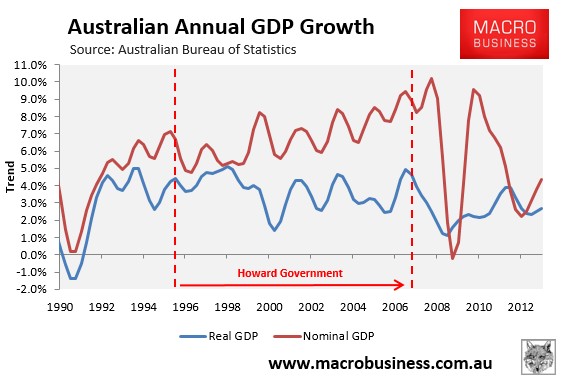 Third, after the Howard Government made the disastrous decision to halve the rate of capital gains tax (CGT) in 1999, making property speculation more fruitful, he helped kick-off a boom in household debt, whereby debt levels literally exploded over the 11 years that Howard was Prime Minister (see next chart).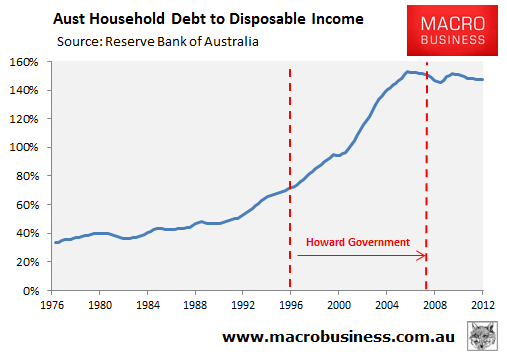 This extra demand (spending) by the household sector meant that the Howard Government was able to achieve higher growth and run bigger surpluses, without adversely affecting overall demand in the economy (see next chart).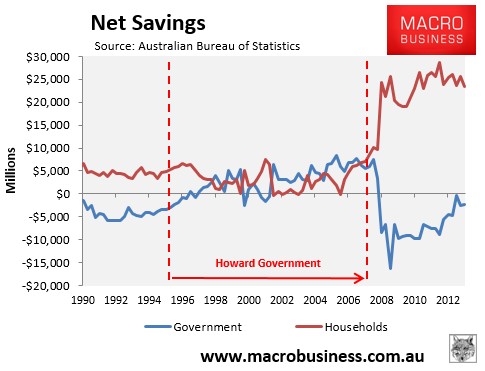 Put simply, the Howard Government's reign was as much a case of good luck and being in the right place at the right time as good economic management.
For me, the mark of a great Prime Minister is how he reacts when the times are tough. Bob Hawke faced adversity early in his reign (the 1983 recession was one of the nastiest in living memory) and yet he used the circumstances to undertake a widespread program of microeconomic and macroeconomic reform, which helped build the basis for a competitive and prosperous economy (a reform effort that waned under Howard).
This is why Bob Hawke receives my vote for Australia's best Prime Minister of the past 40 years.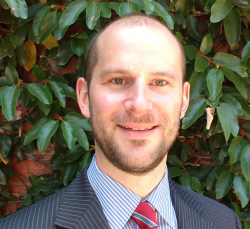 Latest posts by Leith van Onselen
(see all)