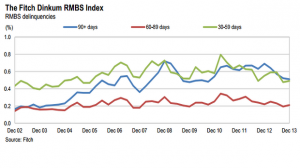 Fitch has released its quarterly Dinkum Index and RMBS mortgage arrears are up slightly with 30 days arrears up 2 bps at the end of 2013.
30-59 and 60-89 days arrears rose by 1bps and 2bps respectively, 90+ days arrears improved by 1bps.
1.21% of total loans are behind on repayment.
Latest posts by David Llewellyn-Smith (see all)