Cross-posted from Martin North's DFABlog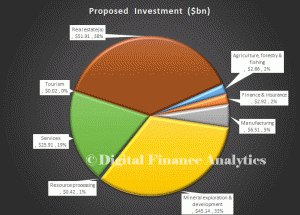 Within the real estate investments categories we saw an increase in developed approvals and individual new purchases and vacant land. The numbers of applications continues to grow each year.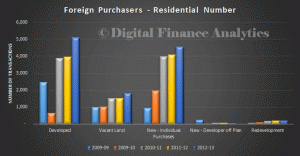 To clarify, the FIRB definitions, residential real estate:
"Developed – The category of developed residential real estate consists primarily of temporary residents in Australia acquiring one existing residential property for use as their residence in Australia.
For development – Acquisitions of residential real estate for development include a number of categories. The vacant land category consists primarily of individual blocks of land purchased for single dwelling construction. These are normally approved subject to conditions (such as, that construction begins within 24 months). It also includes broadacre land for residential subdivision and multiple-dwelling residential developments (such as townhouses and units).
The new dwellings and off-the-plan category – consists of applications by individuals to acquire newly constructed dwellings directly from developers and applications by developers to sell up to 100 per cent of new residences in a development to foreign interests (the developer is also required to market the dwellings locally). Applications from individuals are normally approved without conditions. If a developer is given approval, individuals need not apply for approval. The approved investment figures for off-the-plan approvals for developers and annual programs overstate the likely extent of actual foreign purchases. The value of investment reported against annual program approvals represents the maximum amount foreign persons may acquire under the program.
Developed property for redevelopment – involves the acquisition of existing property for the purpose of demolition and  construction of new residential dwellings. These are normally approved as long as the redevelopment increases Australia's housing stock (at least two dwellings built for the one demolished) or where it can be shown that the existing dwelling is derelict or uninhabitable. Approvals are usually subject to conditions (such as, that construction begins within 24 months)."
In real estate, approved proposed investment was $51.9 billion in 2012‑13, compared with $59.1 billion in 2011‑12. The highest value segments were developed properties, and new developed off plans, though the actual value for this category fell by half  compared with 2012.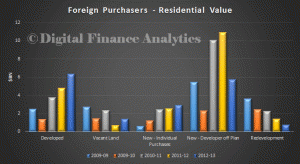 The FIRB do not give approvals by country by category, but overall, across all industry categories, China was the largest, with 6,102 approvals, up from 4,752 in 2012.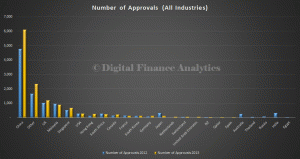 Looking at real estate by value we find "other" is the largest category (!). China accounted for $5,932 million in real estate.  Note that FIRB does not separate commercial and residential real estate in these numbers. We think they should.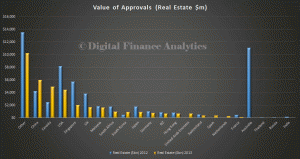 Nothing in this data changes our view expressed in our previous post on this subject:
"We are essentially becoming part of a more globalised property market and it is unlikely this will change. Given what we know about the state of the market, and that locals are being priced out by other purchasers, including investors and overseas purchasers, we need to be wary of these current trends – so I think the Chinese Factor is a critical issue. With limited supply, continued overseas investment in our market will drive prices higher, that is, until conditions change. If China caught an economic cold, it is possible we would see a reversal in property fortunes in Australia, so we are probably more leveraged to China through property than we know or realise.

I would advocate capturing more comprehensive data so we can at least get a handle on overseas property investments. I do not think we are able to stop globalisation, but we need to understand the implications a whole lot better."
I also find it interesting that not one application was refused. Does the FIRB do more than tick the box? Do they have any real teeth? I suspect we are seeing a rise in the number of individual foreign investors, offset by a fall in some commercial categories. The rising number of individual applications are hard to process effectively. Developed "temporary residents in Australia acquiring one existing residential property for use as their residence in Australia" is the largest category.