From Banking Day, the conflicted head of the banking inquiry, David Murray,  made sense yesterday:
"Wallis was more about the regulation of the system. It had narrower terms of reference than we have. It made progress on regulatory structures. Campbell had to deal with how to manage a system that was almost fully regulated and was moving to an open economy. It became a bit of a blueprint for operational efficiency, allocative efficiency and dynamic efficiency. We are looking at those things too but in our case we are asking how well the deregulated system has worked. People went back to first principles with Campbell. We can do that. Like Campbell, we can lay down a blueprint for our financial system….Do we want to be more like Europe and the US or more like Asia and the people we want to be growing with."
This is exactly the question that the inquiry should be addressing so that's encouraging. The question is: can a conflicted David Murray, with a career in building a contemporary bank, address the trickiest question at the heart of this thesis, as illustrated by the following chart: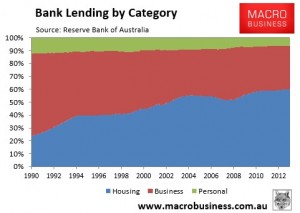 Why have banks so dramatically reoriented their businesses towards productivity-eating mortgages and how can they be tilted back towards lending to productive enterprise?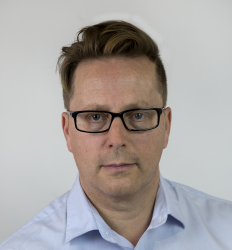 Latest posts by David Llewellyn-Smith
(see all)