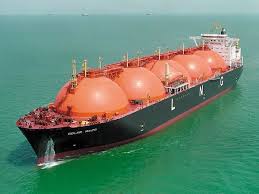 From The Australian:
The former associate deputy secretary of the US Department of Energy, Randa Fahmy Hudome, has warned:
"We are looking carefully at Australia's ongoing LNG projects — are they too big, cost prohibitive? And what kind of policies will your government implement? Will they help, or will they hinder your production?" she said.

"In Australia you have a saying, 'no worries mate', well I would say 'be worried mate' because the US is coming at you full steam ahead, and I say let's have a healthy competition on this going into 2020."

The energy expert outlined that in the US both sides of politics were supportive of providing a framework to expedite natural gas development and to capture the increasing export market.

…"In the US we see the demand in Asia as the biggest bite of the apple for us. We intend to compete in that market," she said.

…Takashi Yoshida, director general of the Japan Oil, Gas and Metals National Corporation (JOGMEC), added fuel to the competition concerns yesterday when he said that while Australia had gained the position as the biggest LNG supplier to Japan, the US and Canada were new regions the country was engaged with."
Meanwhile, the industry lobby blames guv'ment:
"The nation's capacity to deliver large, capital-intensive projects such as liquefied natural gas plants is being eroded by inefficient regulation and by duplication of green tape and red tape across jurisdictions . . . when there is pressure on government revenues and various local industries are faltering, it makes no sense to shackle one of the nation's big economic drivers," Byers says. "Yet the oil and gas industry is regulated by around 150 statutes and more than 50 agencies. And its regulatory burden continues to grow. Much regulation appears to be prompted by political factors rather than science or operational realities."
I suggest the APPEA take a moment to reflect before speaking. We have cost inflation owing to a lack of planning and regulation which enabled seven giant projects to be developed simultaneously and we've got a soaring local price in support of the rush that cannot be resolved by more gas owing to it being exposed to the North Asian price.
Not according to Catherine Tanna of BG and the RBA:
"Manufacturers and producers should work together to work out how the volumes of available gas can increase," the Brisbane-based Ms Tanna told an Australia Britain Chamber of Commerce lunch in Melbourne yesterday.

"It is a practical reality the price of gas has gone up, and it would have gone up with or without the LNG projects. We've been lucky to have relatively low cost of gas but that's a paradigm shift."
Perhaps this is true. Gas prices may have had to rise as east coast resources required replacement and CSG is more expensive than the traditional maritime basins. But nowhere near so early and certainly nowhere near as far. If nothing else you could knock off the liquifaction and transport costs, around $5mmbtu, not to mention the input cost inflation adding another dollar to get a local net back price  of $6 or $7mmbtu, eventually. They are currently at $9 on their way to $11.
But what's double the price between friends?
Latest posts by David Llewellyn-Smith (see all)