As expected, Cameron LNG has now been approved by the US Department of Energy:
The U.S. Department of Energy (DOE) issued a conditional authorization that allows Sempra Energy subsidiary Cameron LNG to export domestically produced liquefied natural gas from its proposed liquefaction facilities in Hackberry, La., to countries that do not have a free trade agreement with the U.S.

Subject to environmental review and final regulatory approval, the authorization conditionally approves Cameron LNG to export up to 12 million tonnes per annum, or approximately 1.7 billion cubic feet per day, of natural gas for 20 years commencing on the date of the first export.
Cameron is the sixth recent approval and brings the total volumes now freed up for North Asia to 62 million tonnes per annum (Australian projected capacity is 90 million tonnes).
According to the IEA, that is enough to drive the long term LNG price down to about $14mmbtu, which would OK for Australia.
A more troubling problem is this: another 23 applications are queued for approval constituting roughly 200 million more tonnes per annum: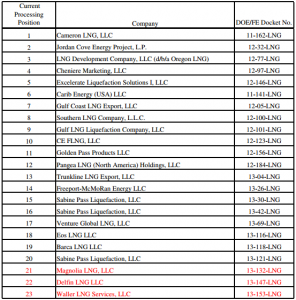 It's not all bad news. All six of the existing approvals are for brown fields conversions to LNG import terminals. The next few projects in the queue are for green fields developments which face considerably more local resistance.
Nonetheless, I expect more approvals. Many of the above applications are for expansion of existing facilities (above another 50 million tonnes) and the arbitrage with North Asian gas prices is just so enormous that why the not (notwithstanding the objection of manufacturing)?
If the US were to approve another 20 million tonnes plus then the IEA sees the North Asian price falling to $12mmbtu and the market becomes a battle for market share that Australia's high cost production will not win.
Latest posts by David Llewellyn-Smith (see all)