Yesterday we were warned by UBS that bank lending standards are slipping. Today there is another sign that a little exuberance may be creeping back into Australian non-banking as well. From Banking Day:
The favourable conditions that prevailed in the securitisation market last year look like they will continue, with the first mortgage-backed securities deal of the year being notable for a big upsizing and for tight pricing.

Macquarie Bank priced Puma Series 2014-1 yesterday, increasing the size of the deal from A$500 million, at its launch earlier this week, to $1.4 billion.

…Macquarie said in a media release that 31 investors participated in the issue, with about half of the A notes being placed offshore.
Half of the funding came from offshore. We're not having any problem funding mortgages as EM bond rates rise, though only half of one tranche was placed offshore.
The market appears to be accelerating and has been doing so since Mr Draghi began to print: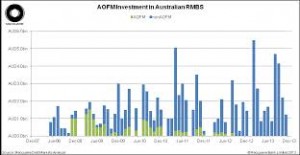 But it is still a long way from its glory days, especially foreign held, even if Australian issuance is not far away from its highs: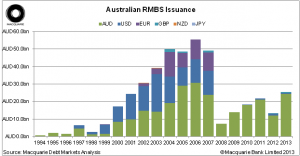 The spreads are still miles away from yesteryear as well with Mac's A tranche 90bps over swap versus pre-GFC levels of 15bps!
Latest posts by David Llewellyn-Smith (see all)