The neglect of manufacturing competitiveness that successive Australian governments have allowed to develop is now a critical national security issue. It's one thing to let your car factories close down and lose the expertise to build engines and other industrial componentry essential to equipping an armed force, but it's quite another to allow a huge dependence upon foreign-sourced fuel to develop.
A new report from the NRMA describes just how bad this has become:
Our Government seems to have made a decision to leave market forces and global supply chains to provide for us in supply emergency. Whether this has been a well informed and holistic decision is the subject of debate. Our oil and fuel stockholdings are below the levels we are obliged to maintain as a member country of the IEA. We do not have stockholding policies or requirements that specify minimum levels of private stockholdings, as is the case in other countries, and we do not have any public stockholdings.

The Government has responded to recently announced reductions in Australia's oil refining capability in a blasé fashion and has not defined any minimum level of refining capacity for Australia. While the probability of supply interruptions may be low, the consequences of such interruptions are severe enough to warrant contingency preparations.

However, such contingency measures do not appear to have been developed and fuel emergency management processes under the National Oil Supplies Emergency Committee system are somewhat opaque.

Our Government appears unlikely to act on the loss of Australian oil refining capacity and is content to rely on market forces to assure our fuel security. This situation will only change if we, the Australian public, say that this approach is not acceptable. If we are to improve the fuel security and national resilience for ourselves and future generations of Australians, we need to invest in building a greater level of energy resilience in this country.

In essence, we have adopted a "she'll be right" approach to fuel security, relying on the historical performance of global oil and fuel.

This report provides a broad overview of our oil dependence and the associated fuel supply chain. We are critically dependent on an uninterrupted supply of liquid fuels in order for our society to function; however, our ability to deal with a broad range of potential supply chain interruptions does not appear to have been analysed in sufficient depth.

While the probability of supply interruptions may be low, the consequences of such interruptions are severe enough to warrant contingency preparations.
The current round of refinery closures is forcing a huge lift in foreign supplied fuels:

How quickly would we run out if supply was blocked? Quicker than anyone else, that's for sure: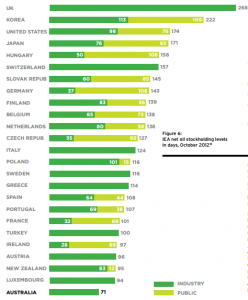 But the 71 days in the chart is an over-estimate:
The 71 days of industry stockholdings shown in Figure 6 is not 71 days of actual consumption in Australia. It is based on a "net imports" calculation.15 The 71 days that we report as Australia's stockholdings to the IEA is roughly equivalent to 23 days of actual consumption of liquid fuels.

The Australian Institute of Petroleum 2008 Report "Maintaining Supply Reliability in Australia"16 supports this rough estimate.

It estimates there are about 10 days of crude oil stocks at refineries, 10 days of petroleum products in the distribution chain and perhaps three days in the hands of consumers, as illustrated in Figure 7.

The 14 days of estimated stocks at sea are not included in IEA estimates as they are not yet delivered to Australian territory.
So, 23 days of fuel. Except there are also "life of fuel" issues because the octane levels in petrol drop out quickly. The real figure is two weeks.
How easy would it be to disrupt the supply? Laughably so at shipping choke points: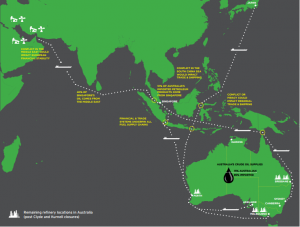 In short, if someone decided to blockade Australia we would be faced with critical fuel shortages within two weeks. Either the military or the economy would grind to a  halt. We could be starved out without firing a shot.
The neglect of manufacturing has become an act of suicidal optimism.
Latest posts by David Llewellyn-Smith (see all)