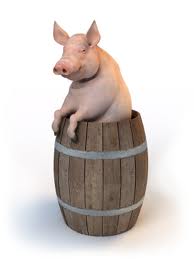 From Crikey today the Government is accused of more inconsistency around entitlement as it approves a farmer's bailout package:
In 2009, the Productivity Commission produced a report on drought assistance that was scathing of the National Drought Policy and the "exceptional circumstances" trigger that Labor had inherited from previous governments. Exceptional circumstances payments, it said, did "not help farmers improve their self-reliance, preparedness and climate change management …Governments need to commit to a long term reform path that recognises that the primary responsibility for managing risks, including from climate variability and change, rests with farmers". rected to this end but have mainly flowed as emergency payments to a minority of farmers in hardship and to stressed farm businesses."

…the bulk of today's package — $280 million — is via cheap debt: "drought concessional loans" will be made available "for debt restructuring, operating expenses and drought recovery activities". There's little detail about the loans, but they appear to be a big expansion of the existing Farm Finance Concessional Loans Scheme, under which farmers can get cheap loans with an interest rate that goes up when circumstances improve. The Productivity Commission criticised exactly this form of cheap debt in its review:

"The Commission does not support offering concessional finance to a group of borrowers to induce them to borrow at a higher level than their own risk preferences would allow. A greater sensitivity to a loss of the farm due to the high non-monetary value placed on farming is rational and does not provide an efficiency case for measures to encourage farmers to take on more debt."

In short, if farmers can't access borrowings from the market at existing commercial rates, giving them access to below-commercial rate loans merely encourages risky behaviour.