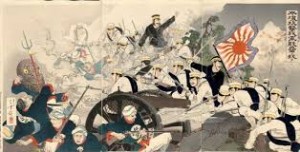 As reported last week, the Coalition has ear-marked tens-of-billions of taxpayer dollars to local defence manufacturing, including a $10 billion to $15 billion-program for 1,000 locally produced armoured vehicles, as well as locally designed and built submarines for around $40 billion.
Today, The Australian provides further context, reporting have emerged that the Government is about to launch a new defence White Paper, targeting a near-doubling of the nation's defence budget to $50 billion within a decade, with defence spending's share of GDP also targeted to increase to 2% of GDP from 1.6% currently.
To put this defense spending surge into  context, find attached a superb speech (and below if you prefer) by publishing legend Max Suich delivered last night at the Australian Institute of International Affairs probing Australia's long term strategies for North Asia.
The main points include:
Australia is betting on a Japanese alliance much more strongly than the US is

we're repeating Vietnam era blunders

the TPP and boosted allied defense spending are US strategic initiatives as Chinese power overwhelms US reach

Chinese economic reprisals are likely

nobody is talking about any of it
I suggest you read it.
China v. Japan US Oz_ (2).pdf by George Scott
David Llewellyn-Smith is Chief Strategist at the MB Fund and MB Super. David is the founding publisher and editor of MacroBusiness and was the founding publisher and global economy editor of The Diplomat, the Asia Pacific's leading geo-politics and economics portal.

He is also a former gold trader and economic commentator at The Sydney Morning Herald, The Age, the ABC and Business Spectator. He is the co-author of The Great Crash of 2008 with Ross Garnaut and was the editor of the second Garnaut Climate Change Review.
Latest posts by Houses and Holes (see all)