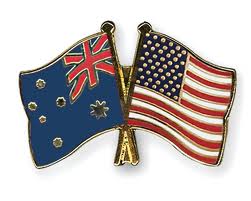 Steve Keen has a nice piece today at locked-BS comparing the last few years of US deleveraging with Australia's more modest disleveraging:
For starters, we had as big a private debt bubble as the US: not quite the same magnitude, but a faster run-up from a lower level – and on the surface, a similar level of deleveraging too…Looking more closely however, there are substantial differences. 

Figure 2: Genuine deleveraging in the US

Australia didn't delever: the change in private debt remained positive throughout the crisis.

Figure 3: A Kangaroo bounce in Australia with no deleveraging

Keen notes as well that the businesses sectors in both nations did delever (indeed Australia more than the US) before continuing:
Household debt did fall as a percentage of GDP in Australia, but only because for a while, debt rose more slowly than did income. But the reduction in the debt burden was miniscule: by far the main component is mortgage debt, and this peaked at 87 per cent of GDP in 2010, fell trivially to 84 per cent, and is now back at 86 per cent and rising.

In the US it dropped substantially, from about 83 per cent of GDP down to 64 per cent.
I will add that I really don't think we appreciate the good fortune we enjoyed with the timing of the second phase of the mining boom which allowed the economy to catch up to our debt levels at the same pace that the US debt levels shrank back to its economy. As things stand today, the US remains slightly more leveraged in its private sector than Australia owing to much higher levels business and credit car debt. Here it is all about one thing: mortgages.
Is one mix better of than the other? Keen concludes that the different composition offers US households greater "headroom"  for consumption and he's probably right given Australia's debt revulsion is intact in credit cards and mortgages don't have far to run. While the businesses sector has lower debt here, so long as demand is weak on household debt saturation, it will have little reason to expand, at least until the dollar falls much further.
One final point. What does it mean when Chris Joye and Steven Keen are singing from the same song sheet?