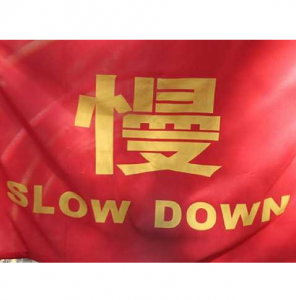 Max Walsh at the AFR is worried about a Chinese hard landing and he's not alone:
The first wave of the global financial crisis began with the collapse of Lehman Brothers in 2008.

The second wave, the euro zone crisis, rolled across the global economy when Greece threatened to default on its euro-denominated sovereign debt.

Australia surfed through these tidal surges. But for China, we would have taken a nasty dumping.

China addressed the Lehman and Greek threats with massive monetary stimulus, mainly in the form of expanded credit mediated by the formal banking system and a shadow banking system that has bubbled up into a multi-trillion dollar monetary force in the space of five years.

Now concern is growing that a third wave is building and this time we could be dragged down by China; not saved.

Bank of America Merrill Lynch has been running a monthly survey of fund managers asking them what they fear as potentially being the biggest economic risks they could confront.

The proportion of managers who nominated an economic hard landing in China that triggered a collapse in commodity prices stood at 26 per cent in December, 37 per cent in January and 46 per cent in February.
That'll do as a summary. Karen Maley also bears up with a interview with UBS's Tao Wang (claimed as exclusive but not really):
"Trust products have developed very rapidly and more of them will mature this year.

"About 35 per cent of them have lent to high risk areas such as coal mining and property, so it's likely we'll see more trust products getting into trouble."

…"The government can isolate these trust companies in terms of what to bail out and what to restructure to make sure overall credit doesn't slow too much and damage the economy and impact the domestic financial system."

However, she warned failures could spark "volatility in certain global markets", especially in commodities and the Chinese stock market.

"…going forward we do expect investment growth to slow…Consumption-oriented economies don't generally grow very fast. It's usually investment that drives the growth."
That is more or less my view. And for a bit of on-the-ground texture, we turn to Reuters:
Chinese property developers are stepping up the use of sales promotions for some suburban housing projects, an early sign that a slowdown in property prices that spooked investors this week may be spreading.

In the big cities, demand remains robust and the chances of a slump in prices are slim, according to a Reuters poll. But prices are falling in some smaller centers, causing jitters among investors since the property sector drives a significant portion of the world's second-biggest economy.

Developers are offering price promotions like free car park spaces and renovation options that translate into discounts of 5-10 percent even in developments on the edge of the capital, Beijing, according to real estate firm Knight Frank.

"In some areas where sales are not good, developers are offering discounting or more promotions, even in suburban areas an hour away from Beijing city," Thomas Lam, Knight Frank's head of research & consultancy for Greater China, told Reuters.

…Local media reported this week that home-owners in the eastern city of Hangzhou, generally considered a tier-2 city, were protesting against steep discounts being offered by some developers, since that affected the value of properties they had bought at higher prices.

One small developer had cut prices by 12 percent in Hangzhou, Xinhua said, adding that a day later another company slashed prices for a development in the same city.

…"A proper correction would be beneficial to all. Even we developers don't want to see such high prices because a sudden surge in prices must come with risks," said Liu Zhuogen, executive director at Tonic Industries Holdings Ltd (0978.HK), a unit of mainland developer China Merchants Property Development (000024.SZ).
My view remains unchanged. Tightening all through the first half until this pain becomes unbearable then some form of modest stimulus to push it back again. Either way, it's a tough year for commodities.
Latest posts by David Llewellyn-Smith (see all)