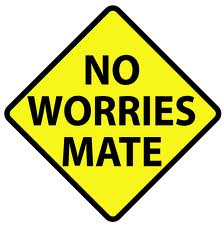 From AB+F:
In a conference call with journalists following the lender's interim results, Narev put the hot potato issue of Australian house prices in the freezer by declaring: "we don't think we have a housing bubble."

"The reasons we don't think we have a housing bubble is not just because a lot of the incidences of price rises are quite location specific, but also if you look at the fundamental dynamics of supply and demand, the current levels of prices are well supported by levels of supply and demand," he said.

Regardless, he said the bank has conducted scenario testing exercises where Australian unemployment spikes to 11.5 per cent and house prices crash 33 per cent, emphasising that these are possible scenarios and not CBA's actual projections.

"We never say never but we don't believe we are seeing any of the even early signs of a housing bubble in the economy at the moment," said Narev.

Financial System Inquiry

In response to a question about what issues the Financial System Inquiry should examine, Narev said the terms of reference are broad and appropriate, but highlighted a number of key areas for investigation.

"We haven't had a good look at the financial system since the Wallis Inquiry and therefore it's appropriate for the terms of reference to be broad, but I think clearly people are going to look at competition, we welcome that because we feel the environment is competitive and getting even more competitive," he said.

The inquiry should also look at the funding model for Australia including bank funding and superannuation, and with the rapid change in technology, the issue of security.

"I think the inquiry must look at security and in particular the regulation of the shadow banking system to make sure that customers are being well served as more technology-driven customers are entering the market," said Narev.

Colleague David Craig, the bank's CFO, added whether Australian banks are holding too much capital relative to peers globally is another issue that needs to be examined.

"The more capital you have, the safer you are and so that's a good thing and we applaud that but with safety comes a cost and so we just need to look, I think, at the cost of that," said Craig.

"And we also need to realise that Australian banks are competing for scarce global funds and they need to be seen to be as strong as they possibly can be in order to get full access to funds at the best possible price internationally."

Potential black swans

Narev identified a rapid downturn in China's economy as the number one potential danger for the Australian economy.

"Now when people say Chinese growth is slowing from 7.8 per cent to 7 per cent, if you look at the absolute numbers that China is still growing at, even those levels [are] still very comfortable, so that's not the signs we're seeing at the moment," he said.

"But if that was to rapidly change, that would be a risk for the economy, and continuing investor concerns which meant that capital stayed in local environments would clearly put a real significant difficulty on funding costs.

"Those would be the two major difficulties that we see, but again we are not seeing any of the signs of that at the moment."
At least they're looking in the right place! S&P saw the same yesterday, via Banking Day, the banks are:
"somewhat more exposed to funding and liquidity risks compared with some other highly-rated systems…the recent low-growth environment has been conducive to improving trends…the transition by Australian banks to improved deposit levels, longer-tenor wholesale funding, lesser reliance on short-term funding, expansion into new funding markets and investor pools (such as covered bonds), and pre-funding of wholesale commitments."It said it might "derive further ratings comfort if these positive trends persist in more buoyant times."
Hard to argue that, for the time being, the sun is shining upon CBA. We shall see as the economy heads into the shadow of the capex cliff.
Latest posts by David Llewellyn-Smith (see all)