Cross-posted from DFA blog.
Today the Federal Court ruled on the class action against ANZ relating to the bank's penalty fees. The core of the case was that fees charged for exception transactions were higher than the costs of providing the service. ANZ was found to have charged excessive fees on late payments made to credit card holders. The $35 charge for paying late was seen as a penalty rather than a fee for service, when the costs involved might only be $3. However, other fees including those relating to overdrawing accounts were not penalties and therefore permissible.
If the findings were applied to all the banks, it is estimated by some that as much as $200m may be refunded from credit card late payments.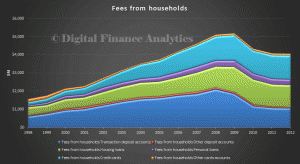 Looking at the fees picture more broadly, households paid a total of $4bn in 2012, the last year for which data from the RBA is available, a reduction from over $5bn in 2009. The fall is largely attributed to Nab's initiative to reduce fees in 2009, when others followed, plus a lowering of exception fees.
This translates into an average of about $500 per household per year. That said, there are more than 200 individual fees which might be charged across the wide range of bank services and the list is long and complex. These fees are for retail banking services, and is above the $18bn charged by the wealth management industry.
Businesses paid $7.3bn in 2012, and fees have been growing steadily in recent years. Banks are benefiting from significant fee hikes especially to smaller businesses, perhaps seeing them as softer targets. This is one reason why many SME's are on the edge!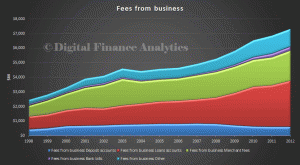 Turning to exception fees, we see a reduction in value for both households and businesses. This is partly a reflection of changes to bank attitudes ahead of the ANZ case mentioned above.

The core debate around bank fees is whether they should be aligned to the costs of providing a specific service, or whether they are a service which can be priced at a market rate, irrespective of costs of delivery.  The ruling today suggests it depends on the service, which is a confusing result, but one which mirrors recent events in the UK.
It is unlikely we will really get to know how much the profit element loaded onto individual services is, and what is more, the banks probably do not know either! That said, we should acknowledge consumer bank fees have dropped from their previous levels higher levels. Last time we bench-marketed fees in Australia against other countries they were higher here, but I suspect they are now line ball.
Latest posts by David Llewellyn-Smith (see all)