In my rather long introductory post on the new theory of the firm I developed with Brendan Markey-Towler, I listed many important characteristics of our model. I now want to invest some time expanding on these points in a series of posts.
The first characteristic of our model is the way we relaxed assumptions about market conditions. Rather than the unrealistic free entry and exit and perfect knowledge conditions that define most models, our model world is simply defined by a scarcity of resources.
In the paper we make a peripheral link between return-seeking firms and maximising the value of a firm's real option to invest. We do this because real options analysis also relaxes many assumptions about market conditions compared to the mainstream model, which leads to a rather different firm objective. But I believe there is a closer link.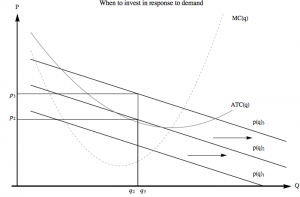 Look at the diagram above showing the traditional firm cost and demand curves for some discrete investment choice. At time t=1 the demand curve, p(q)1, is below the average total cost curve at all points. Thus there is no positive return to be gained from this potential investment.
At time t=2 however, demand has shifted so that there is now a point (at q2) where investing in this new capital will provide a positive rate of return. The timing of this new investment will be when the maximum rate of return exceeds the hurdle rate reflecting the perceived risk in that market.
Finally, at t=3 this firm will produce a slightly higher output at the greatly increased price if they remain on this cost curve. If other cost curves are available then a firm will expand output by 'jumping' to the next available cost curve at the point that maximises the rate of return on costs (also remember that the capital, or production unit, space exists only as discrete set of curves).
Capital investments are made on the basis of planned production at the point on their cost curve that maximises their rate of return.
Traditional economic analysis has no agreed method for dealing with the process of capital investment – either capital is fixed, or it has already perfectly adjusted to the 'long run'. The active choice of capital and the output for which it is designed to be utilised, is not a consideration.
In our more realistic model world capital choices are being continually made. Therefore in normal operation of markets, where expectations are reasonably good on average, capital will be utilised at the point that maximises the rate of return on all costs.
Our setup of capital input choices as cost curves existing in a discrete space also allow firms to continually invest in new operations. In order to analyse firm price, output and investment choices in the model we have no need to invoke arbitrary time periods where some arbitrary inputs into production are fixed or flexible.
Our firm decision rule is therefore one that firms can use to make investment choices to most rapidly grow their firm value in a world of scarce resources.
Please share this article. Tips, suggestions, comments and requests to [email protected]. Follow me on Twitter @rumplestatskin
Latest posts by Rumplestatskin
(see all)