Cross-posted from DFA blog.
Information about mortgage industry market share data is hard to come by, especially amongst smaller banks and non-banks. So we welcome the arrival of the Australian Financial Group (AFG) Competition Index. AFG is a substantial player in the mortgage market, as an aggregator with than 1,800 brokers nationally, processing around $3 billion of mortgage finance every month, and managing more than $70 billion in mortgage finance. They fund some of their own book through securitisation.
They just released data for the 12 months of 2013, and it makes interesting reading, with a few caveats. The data only reports loan flows via AFG, so trends are probably more interesting than absolute numbers. It includes AFG funded loans also. They split out lenders into majors and non-majors, (which include smaller banks, non-banks and building societies). Although AFG has a national footprint, it is headquartered in Perth and so its business mix may not be representative of the national picture. Not all aggregators have the same lender panel mix. That said, here are some of the key findings:
Overall, according to AFG, the majors have lost relative share to the non-major lenders.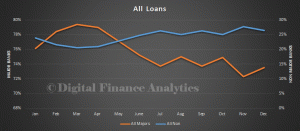 This is especially true for fixed loans, where there has been a 10% shift away from the majors.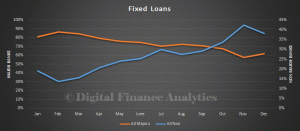 First time buyers are also shifting slightly away from majors.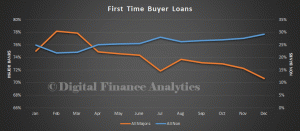 However, AFG writes a lot of business with Keystart, the WA owned state lender who offers up to 98% loans, does not require loan mortgage insurance and will consider joint housing association type ownership. We also know that first time volumes in some states are down significantly. The chart below shows the mix, and the yellow bar is Keystart with contributing up to 11% of AFG's first time buyer business.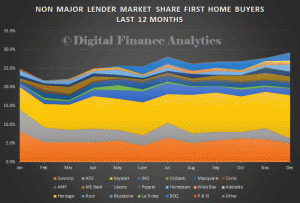 Turning to investor loans, we see players like Macquarie increasing their share, and ME Bank expanding later in the year. ING and AFG are a little down. Again a shift away from the majors is evident.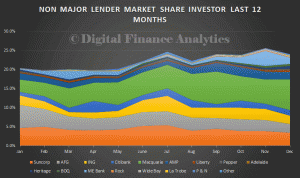 My net conclusion is that there is significant competition for business at the moment, especially as demand is up, but not as much as house prices. Players are seeking to win share by offering special deals, and making changes to broker commissions. We see the presence of non-banks, like Liberty, Pepper, and AFG itself as funding options improve. As highlighted previously, there are data gaps in the national statistics relating to non-bank activity, which looks to be on the rise. We welcome the AFG data set as an additional contribution!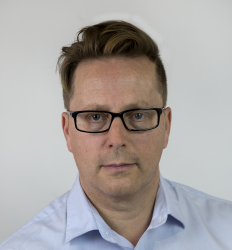 Latest posts by David Llewellyn-Smith
(see all)