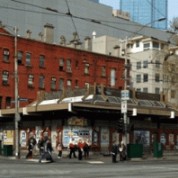 The Australian today notes how the Federal Government is being urged to adopt a US-style scheme to turn areas of urban blight into productive sites and fund new infrastructure:
As the Coalition looks for ways to finance big projects, industry groups are pushing for a close examination of the system used widely in the US to redevelop old industrial areas, where governments provide financial support to projects in anticipation of extra taxes generated from increased economic activity.
Rather than the Government funding renewal projects directly, surely a simpler and more cost effective solution would be to implement a broad-based land tax (in exchange for cuts to stamp duties), in turn penalising land banking and vagrancy and encouraging the more productive use of sites?
A broad-based land tax would also help to make infrastructure investments self-funding for governments, since any land value uplift brought about through increased infrastructure investment (e.g. new roads, trains, etc) would be partly captured by the government via increased tax receipts. In turn, governments would be more likely to facilitate development, rather than act to restrict it in a bid to save on infrastructure costs.
Often the simplest solutions are the best.