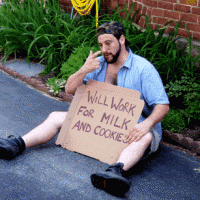 The Australian Bureau of Statistics (ABS) has just released labour force data for the month of December, which registered a slight increase in the unemployment rate, with the rounded estimate remaining at 5.8%. However, the number of people employed fell sharply, driven by large losses in full-time jobs, with the job losses masked by a big fall in the labour force participation rate.

According to the ABS, in seasonally-adjusted terms:
The number of people employed decreased by 22,600 to 11,629,500 in December. The decrease in employment was due to decreased full-time employment, down 31,600 people to 8,067,700, offset by increased part-time employment, up 9,000 to 3,561,800.
Unemployment increased 8,000 (1.1%) to 722,000. The number of unemployed persons looking for full-time work increased 13,300 to 532,400 and the number of unemployed persons looking for part-time work decreased 5,300 to 189,600.
The participation rate decreased 0.2 pts to at 64.6%.
Aggregate monthly hours worked increased 0.6 million hours to 1,634.0 million hours.
I'll be back later with my usual detailed report.