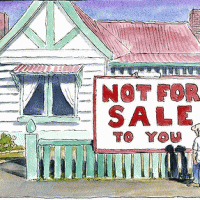 Stephen Kirchner, a research fellow at the Centre for Independent Studies, has written an article in The Australian defending negative gearing and arguing that housing reform should instead focus on the supply-side. Let's take a look:
DEBATES about housing affordability continue to point to negative gearing as a factor putting upward pressure on house prices. However, negative gearing has been in place for decades and through many up and downs in house prices. The fact that people want to invest in housing should not be a problem for housing affordability.

The real problem is the increasing inability of the supply-side of housing markets to accommodate the demand for both owner-occupied and investment property without upward pressure on prices. Public policy needs to focus on boosting supply rather than suppressing or diverting demand…

The concessional tax treatment of saving via owner-occupied and investment property adds to demand by making both a more attractive vehicle for saving relative to other asset classes, but is also positive for housing supply…

It is sometimes noted that demand from property investors is largely met through existing rather than newly built dwellings… It is only supply-side constraints that prevent demand for existing dwellings from inducing new construction…

The short- to medium-term impact on the rental market from less generous tax treatment of investment property highlighted by the Henry review could be mitigated to the extent that any fall in prices induces more renters to become owner-occupiers.

However, substitution between investors and owner-occupiers is unlikely to offer much relief in terms of overall housing affordability, especially if there is also a negative supply response.

Public policy should aim to improve incentives for increasing housing supply.
Let me say from the outset that I have some sympathy for Kirchner's view. If Australia's land-use, planning and taxation systems were more liberal towards housing, and housing supply was as responsive as, say, Houston or Atlanta, then negative gearing would not be an issue. Any increase in demand from negative gearing (or any other policy) would quickly lead to the building of additional low priced housing (either on the fringe or in-fill), keeping house prices in check. Further, speculators would be less likely to pile into such a market, since there would be little prospect of achieving strong capital gains. Investing would instead be more about yield.
So in one sense, Kirchner is correct that the first best policy is to free-up constraints on Australian housing supply, which are preventing affordable homes from being built.
That said, Kirchner is wrong to suggest that negative gearing is not adversely affecting housing affordability. Given Australia's constipated housing supply system, it makes absolutely no sense to add fuel to demand via tax incentives. Such deductions are not allowed in most other countries and they are costing the Budget billions in foregone revenue.
Contrary to Kirchner's claim, negative gearing also does absolutely nothing to improve housing supply. As explained yesterday, Reserve Bank of Australia (RBA) data clearly shows that the overwhelming majority of investors – almost 95% – buy pre-existing dwellings, not newly built dwellings, and that the proportion of investors buying new dwellings has fallen spectacularly since negative gearing was re-introduced in September 1987 (see next chart).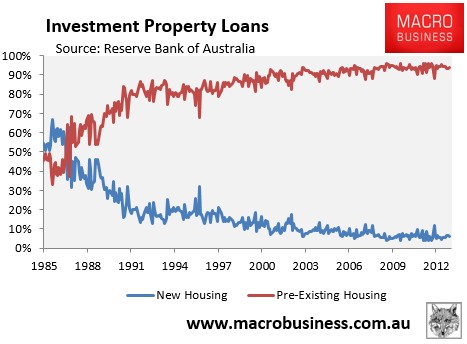 Moreover, the amount of investor funds going into new housing has barely shifted in 25 years, whereas investment in pre-existing dwellings has skyrocketed: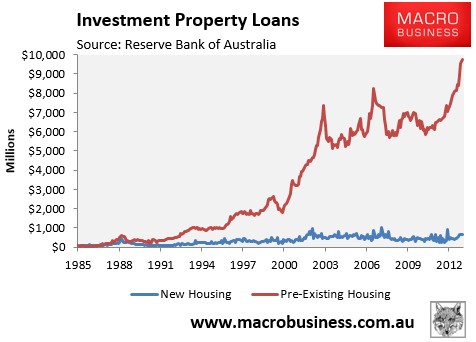 Kirchner's claim that negative gearing would not improve affordability is also spurious. Less demand from investors would lower prices (other things equal), making it easier for first home buyers to enter the market. It is plain logic.
Nor would the rental market be adversely affected by negative gearing's removal.
Since investors primarily purchase pre-existing dwellings, negative gearing merely simply substitutes homes for sale into homes for let. In the event that negative gearing was once again quarantined and a proportion of investment properties were sold, these homes would be sold to renters, turning them into owner-occupiers. So while the supply of rental properties would likely be reduced if negative gearing was abolished, so would rental demand, leaving the rental supply-demand balance unchanged.
Rents would also likely be unaffected under the above scenario. As shown yesterday, the below chart plots the Australian Bureau of Statistics (ABS) rental series from 1972, with the period where negative gearing losses were last quarantined (i.e between June 1985 and September 1987) shown in red. As you can see, there was nothing spectacular about this period, with much higher rental growth recorded in earlier periods when negative gearing was in place: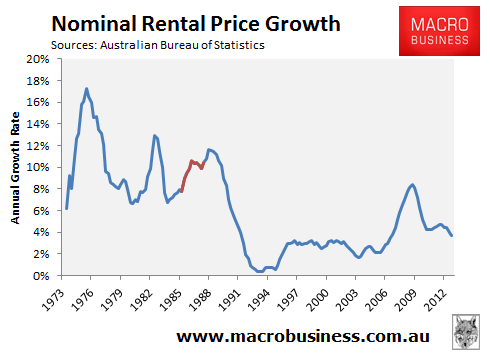 Similarly, if we deflate the above series by CPI, in order to remove the effects of inflation, we again see that rental growth over the period when negative gearing was last quarantined was nothing special, with periods of higher rental growth recorded both prior to and subsequently: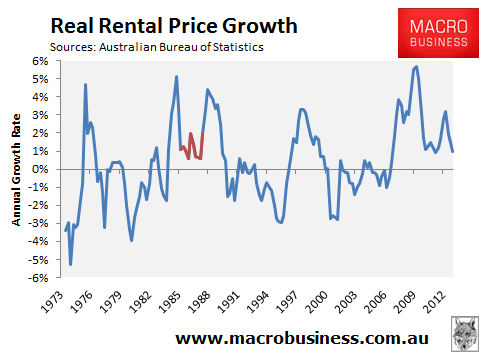 The fact remains that negative gearing is costing the government billions in lost tax revenue – funds that could instead be used to fund schools, hospitals, housing-related infrastructure, or any number of other worthwhile initiatives. At the same time, negative gearing does nothing to boost supply, and also creates additional demand from tax subsidised investors, placing upward pressure on home prices and locking-out would-be first time buyers.
Comprehensive reform of Australian housing requires both measures to free-up supply-side bottlenecks, as well as efforts to remove speculative demand induced by spurious tax incentives.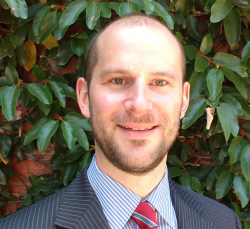 Latest posts by Unconventional Economist
(see all)