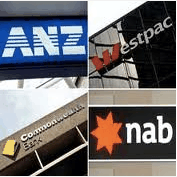 By Martin North, cross-posted from the Digital Finance Analytics Blog
Today APRA published their statistics on the banking business of individual banks in Australia. We see the continued dominance of the four largest players in the market, with CBA winning out on home loans and deposits. Total housing lending now stands at $1,333 bn according to the RBA.
Turning first to owner occupied and investment loans, CBA is followed by WBC, then nab and ANZ.  However WBC wins the investment loans race, with $131m, significantly ahead of the other players.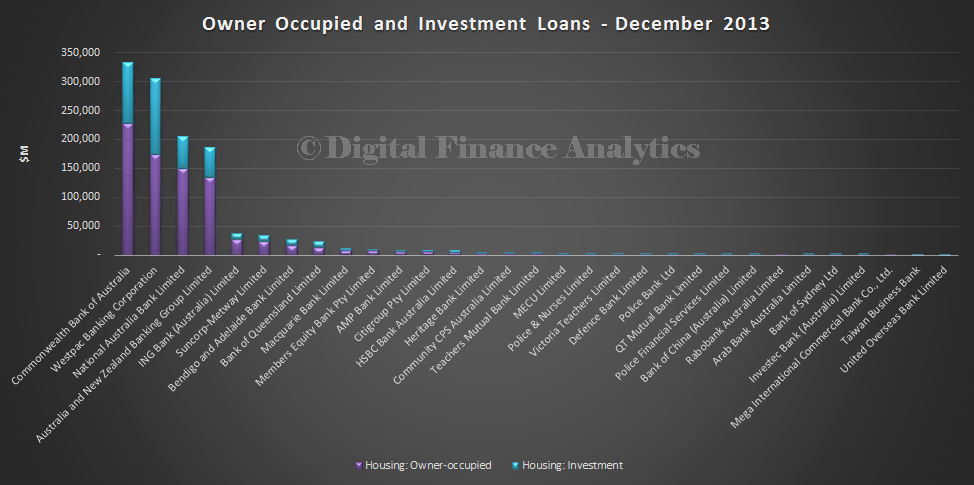 Therefore we see the ratio between owner occupied and investment loans varies: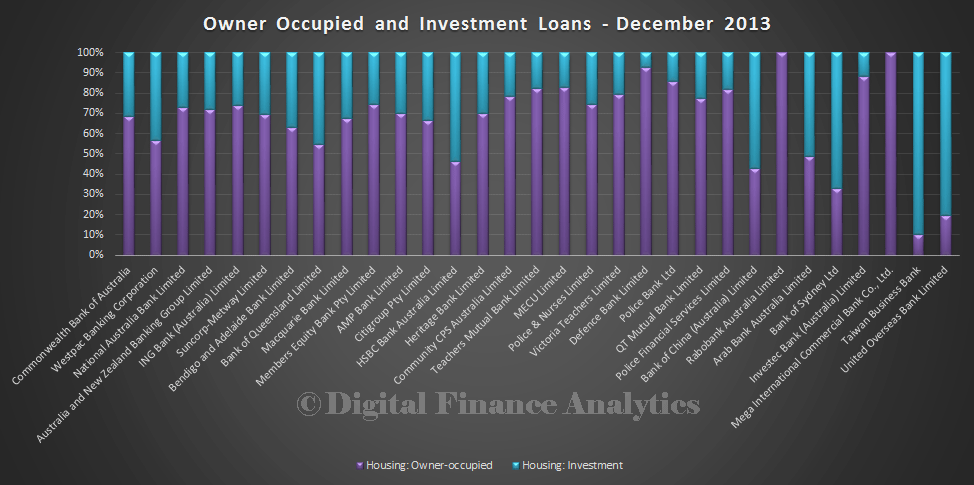 Westpac, Bank of Queensland and HSBC have the highest ratio of investment loans amongst the larger players.
Turning to household deposits, in the month CBA is well ahead of everyone else. nab is behind ANZ in last place amongst the big four.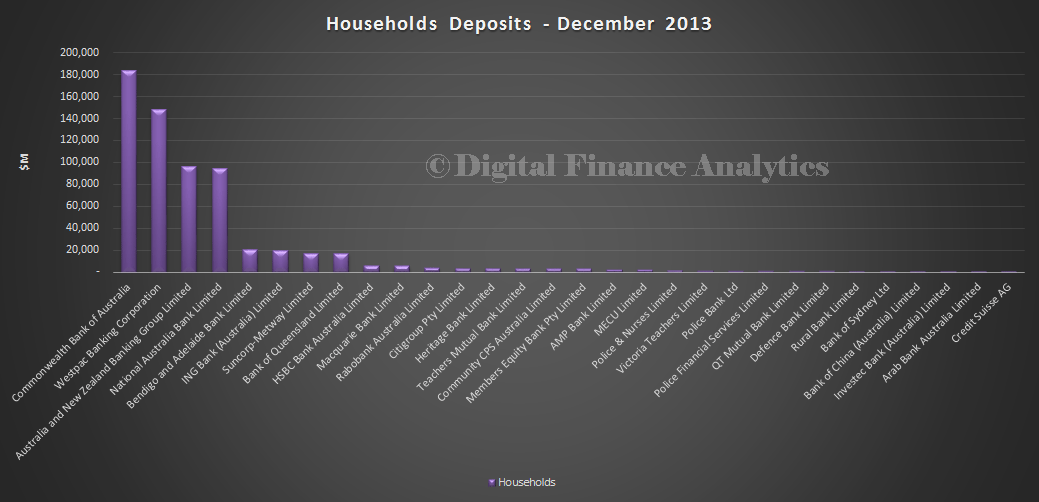 Looking at the ratio between household deposits and mortgages, we see that most of the majors lent out more than they took in. So they are using funds from sources, including other deposits, reserves, financial markets or securitisation to fill the gap.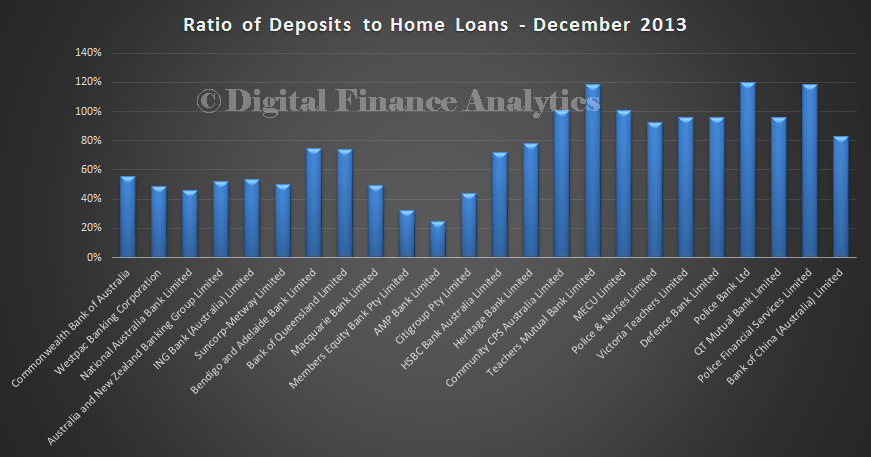 The outstanding balances which were securitised (small beer in the overall picture):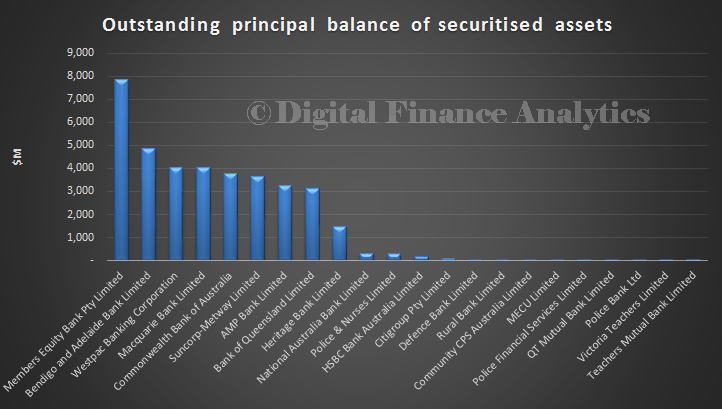 Of course market share data alone does not tell us about the profitability of the various businesses, but we do see some differences in strategy continue to play out, especially in the mix between investment loans (the faster growing segment) compared with first time buyers or refinance.
The RBA also updated their financial aggregates today.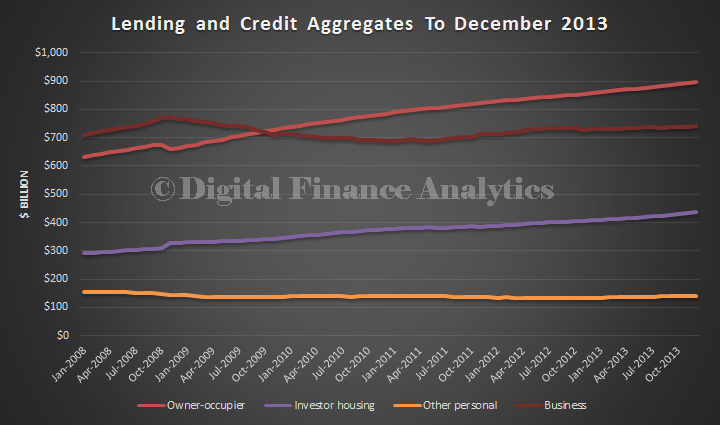 Using the seasonally adjusted data, housing credit was up 0.6% in December, making an annual change of 5.4% (4.5% in 2012). Business credit was up o.4% in December, making an annual rate of 1.7% (2.9% in 2012), so business credit continues to stagnate. There was little change in personal credit at the aggregate level (though we know some segments are more likely to borrow than others who are repaying).
The drift towards more investment home loans shows up in the aggregate data also: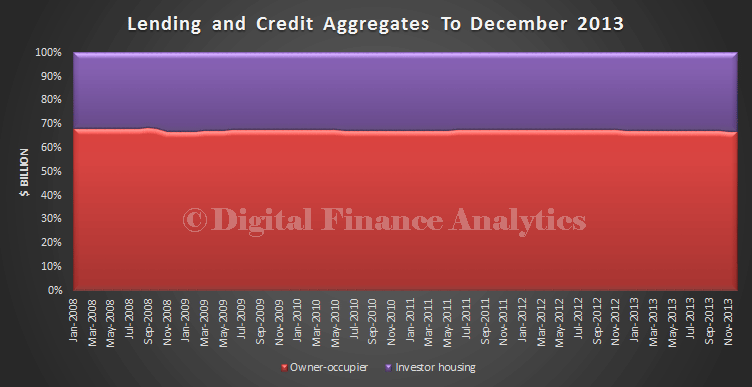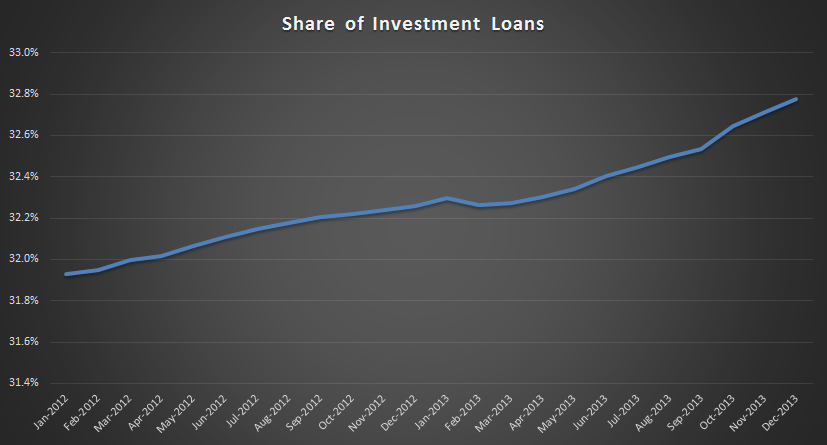 Overall all, we still see house prices running hot compared with borrowing, despite the increased demand for investment loans. Low interest rates as a strategy for growth still disappoint. There are other reasons why businesses are not willing to borrow.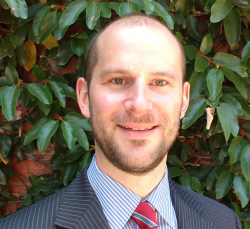 Latest posts by Leith van Onselen
(see all)