Iron ore charts for the 2nd January 2014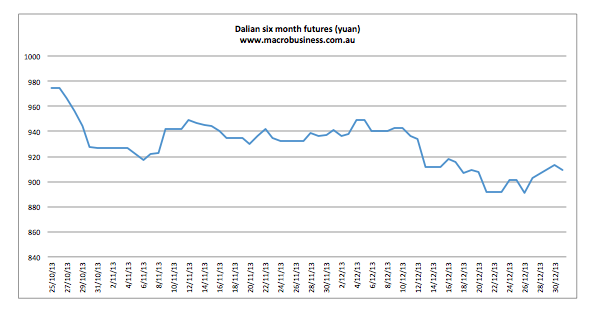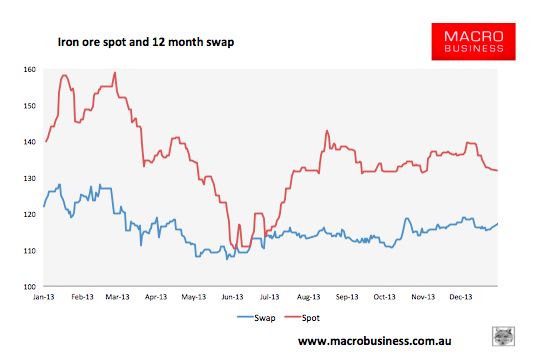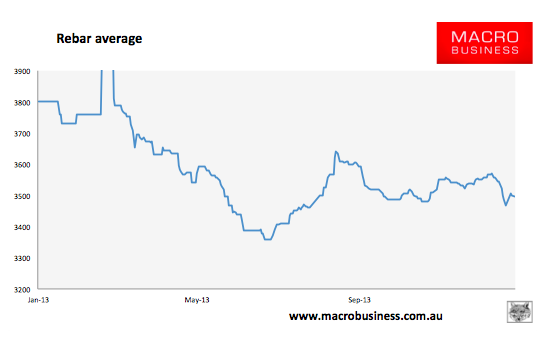 and a couple of stories. First to India where the government sanctions on iron ore are having a significant affect on the market.
Top Indian trader MMTC's $80 million iron ore export terminal, ready since 2010, has never handled a cargo. Now the company wants to spend $16 million to convert the terminal to ship coal.

Bans on iron ore mining and exports in India's top producing states of Karnataka and Goa have choked the industry so hard that MMTC is one of many firms exiting. Even if efforts to fully lift the bans make it past the many bureaucratic and legal hurdles, iron ore miners do not expect complete resumption of production until late 2014.

The bans, put in place as the government tried to clamp down on illegal mining, have cut India's iron ore exports by around 85 percent, or 100 million tonnes, over the past two years. They have also reduced foreign exchange earnings by more than $17 billion in the same period, according to the Federation of Indian Mineral Industries (FIMI).
That has certainly help keep iron ore buoyant over the last year, but with the short term disruptions caused by the weather in Australia and South America now stablising, the demand side of the market is starting to show through again.
Chinese iron ore futures inched down on the last day of 2013 after two consecutive days of gains, with concerns about supply disruptions in Australia and Brazil outweighed by a seasonal decline in demand in the world's biggest consuming country.

Traders had been trying to get hold of supplies in the hope that disruptions from a tropical cyclone in Australia and heavy rains in Brazil will drive up prices in the coming week, but overall demand remains in a lull as major steel-consuming sectors like construction down tools for the winter.

"There is going to be an 8-million tonne squeeze on iron ore supply, but on the demand side it feels a bit muted at the moment," said Graeme Train, an analyst with Macquarie Bank in Shanghai.

"We are not seeing the mills aggressively scramble for material and while we should be looking at a bit of an upside in prices (as a result of the supply disruptions), it will not be a runaway increase."
And that is the story to watch over the next 12 months. As H&H has been covering all year, 2014/15 will see significant supply uplift and the big question, obviously, is with the demand keep pace.