Iron ore charts for Jan 8th 2014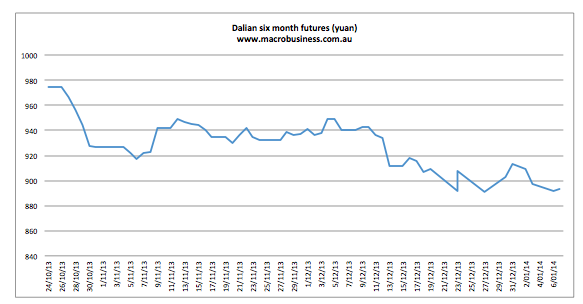 12M swap is still falling with spot following, while futures are up a pip. Steel isn't looking good at all. From Reuters
Chinese steel futures tumbled to a contract low on Tuesday, pressured by tepid demand and worries over a credit crunch in the world's top consumer, putting a lid on gains in steel-making raw material iron ore.

Slower demand and tight credit have discouraged traders from restocking for a potential pick-up in buying appetite when commercial activity resumes after the Lunar New Year, which this year falls on Jan. 31.

China's cabinet has called for strengthening regulation of banks' off-balance-sheet lending in a new effort to address growing financial risks from an explosion in debt, fuelling concerns on tighter credit for steel traders.

"The market is worried … traders might face tighter credit in future, while the weak outlook on demand has already kept them from building up much in the way of stocks," said a futures broker in Shanghai.

The most-traded rebar futures contract on the Shanghai Futures Exchange, for May, declined for the third straight session to a low of 3,462 yuan ($569) a tonne, its lowest since the contract was launched in April 2009.