Daily Iron ore charts for 7th Jan 2014.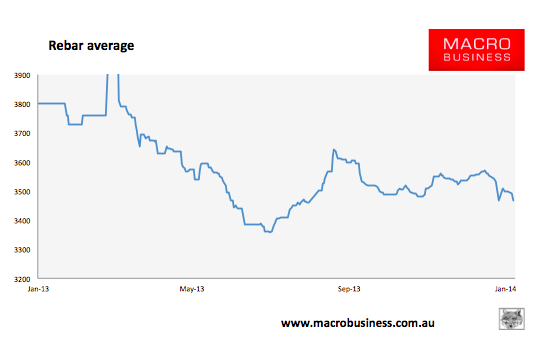 As you can see 12M swaps continue to rollover as and spot has now turned down too. Futures are hovering near lows and rebar is at 7 months lows a Reuters reported yesterday
Chinese steel futures fell for the second straight session on Monday to hit their lowest in nearly seven months on seasonally tepid demand, dragging on steelmaking raw material iron ore.

Steel demand in the world's largest producer and consumer typically weakens in December as cold weather hampers construction projects, while commercial activity also slows ahead of the Lunar New Year holiday, which this year falls on Jan. 31.

The most-traded rebar futures contract on the Shanghai Futures Exchange, for May, tumbled to 3,519 yuan ($580) a tonne, the lowest since June 14. It was trading 0.4 percent lower at 3,535 yuan by 0254 GMT.

It ended last week down half a percent in its fifth consecutive weekly loss. "Enquiries are weak, while mills have shipped their products from north to south, bringing more pressure to market in some warmer cities," said a steel trader in Shanghai.

Concerns about the pace of recovery in the world's second-largest economy are also weighing on commodity prices.
So looking a bit bearish on seasonality and concerns about recent China data.
Back home, however, it's all rainbows and sunshine.
Australia's iron ore export earnings continue to soar despite concerns about an end to the mining boom, a report says.

Iron ore is also racing ahead of coal and is tipped to have generated more than double the latter's revenue in the last quarter of 2013.

The mining investment boom is generally considered to have peaked, but export earnings from commodities and their contribution to public revenue are not declining yet, according to East & Partners' iron ore and coal (IOC) index.

The report forecasts that Australia stands to earn $US21.9 billion ($24.5 billion) from iron ore exports during the last three months of 2013, compared with softening thermal and coking coal revenue of $US10.1 billion.

Based on figures from ports and official government data, the report predicts the 7.9 per cent revenue lift from the previous quarter will come from a 6.3 per cent lift in iron ore exports to a record high of 161 million tonnes.

The iron ore price was 1.3 per cent higher at $US136 a tonne during the period.